A man who escaped a moving vehicle on Interstate 95 in Westchester Tuesday evening was found with gunshot wounds, police say.
State police say they received a report of a crash on the I-95 northbound in Mamaroneck, between exits 18B and 19, just before 6 p.m. When they got there, they found a man with serious injuries, including gunshot wounds.
The man, 24-year-old Mouhamed Cisse of the Bronx, had apparently rolled out of a moving U-Haul van with Arizona plates and was hit by another car, according to state police.
He was taken to Jacobi Medical Center, where he's listed in critical condition.
The northbound lanes of I-95 were closed as state police investigated; they were reopened by late Tuesday night.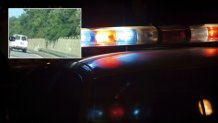 State police said Wednesday that witnesses saw the GMC U-Haul van swerving in the roadway before it hit a maroon Honda, also going northbound on I-95. The van became temporarily disabled in the roadway before it got back on the road. A witness was able to take a photo of the van before it took off.
Police say they're looking for the U-Haul van, which may have right front-end damage. Anyone who may have witnessed what happened is asked to contact police at 914-769-2600.