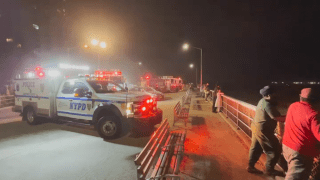 Police said a body was recovered Sunday morning near the search site of a missing swimmer last seen the night before.
NYPD and FDNY search teams were dispatched Saturday evening to Far Rockaway after reports of a missing swimmer were made around 9:30 p.m.
Police said witnesses described hearing the screams of a swimmer in the waters off Far Rockaway before they disappeared.
The NYPD confirmed a woman in her 60s was found on the shoreline Sunday morning around 7 a.m. The medical examiner will determine her cause of death.
Officials were not ready to confirm if the woman recovered Sunday was the missing swimmer that prompted search efforts.
Copyright NBC New York