An armed home invasion in Queens morphed into a scary hostage situation that lasted until early Wednesday morning.
All hostages have been released and the two suspects have surrendered to law enforcement after two armed men entered a home Tuesday night on 125th Street in South Richmond Hill, according to police sources with knowledge of the investigation. None of the hostages, including a baby, were injured.
The NYPD received a call about a burglary at the home where a woman lives with several members of her family just before 9 p.m. Tuesday, police said. Responding officers then encountered a woman with an infant who told them there were armed people in the home along with others.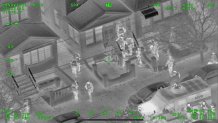 Police evacuated the area and members of the hostage negotiation team began contacting with people inside. Later in the evening, two additional people inside the home, an elderly woman and a woman in her 50s, were released, according to authorities.
Shortly after midnight, the NYPD's 106th precinct said that all hostages had been removed from the home, and all were safe with no injuries reported. A total of five people, all women, were held hostage, police later confirmed.
Negotiators continued talking to the suspects who were still inside. Just before 2 a.m., police announced two male suspects surrendered and they were placed in custody.
According to high ranking law enforcement sources, they believe both suspects were under the influence, exactly what substance they we under is unclear.
At one point in the negotiations the suspects asked the NYPD for a pizza to eat, the sources said. The suspects also allegedly asked to speak to their own families during negotiations.
Although a motive remains unclear, police are looking at all possible avenues, including that one of the men involved in the home invasion may have sought money owed, came to collect because they assumed that there would be money in the home, a senior NYPD official with direct knowledge of the investigation tells News 4.
An investigation is ongoing and police have not identified the men, only that they were 35 and 51 years old, or announced what charges they are facing.
Copyright NBC New York