What to Know
A massive fire in Somerset County consumed at least five buildings and prompted a mass evacuation over the weekend
PSE&G reported at least half of Bound Brook's customers were without power; no injurise were reported
Juan Padilla, a Bound Brook resident, now faces a charge of aggravated arson
A 28-year-old New Jersey man has been arrested on aggravated arson and other charges in connection with the devastating seven-alarm fire in Somerset County that consumed at least five buildings, prompted a major evacuation and shut down an NJ Transit station over the weekend.
Juan Padilla, of Bound Brook, also faces a charge of hindering an investigation/providing false information in the fire that broke out around 8 p.m. Sunday at an empty apartment that was under construction near Mountain Avenue and East Main Street in his hometown. The fire then spread across the street to another apartment building under construction.
Strong, gusty winds helped spread the blaze, which was brought under control several hours later. Authorities said Tuesday they determined Padilla was allegedly responsible and said he had been seen walking in the area of the first construction site several times leading up to the fire.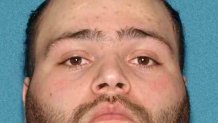 After consuming the two construction sites, the flames took over two other houses and an electronic store. Despite the extensive damage and the terrifying sight to downtown residents, no injuries were reported.
"This is a disastrous fire that is very difficult to contain and has the potential to spread to all nearby structures," the Bound Brook Police Department initially said on Facebook.
Over 100 residents in the area were forced to leave their homes due to the flames and smoke -- and around 3,000 people, or half of the town, lost power. The investigation into the origin and cause of the blaze is ongoing.
Copyright NBC New York/Associated Press