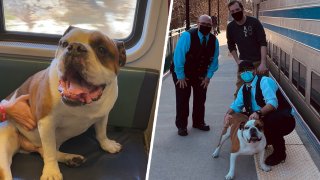 This lost pooch punched an express ticket home.
An English bulldog was reunited with his owner after some eagle-eyed Long Island Rail Road workers spotted him by the tracks in the Hamptons on Tuesday morning.
The dog, an 8-year-old named Sampson, apparently ran off while spending that afternoon at a park in East Hampton with his owner, Mike Francow.
""He's the type of dog that always returns," Francow told the New York Post, which first reported the story.
Francow and a construction worker in the park both looked for Sampson without much success - but the crew running the 10:10 a.m. LIRR train to Montauk spotted him. Engineer Christian Bock - also a dog owner - told the Post he was able to scoop up Sampson after spotting him by the tracks.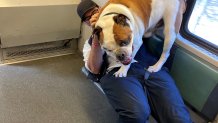 "As a dog lover, it's like my worst fear to hit a dog," Beck told the Post. "Luckily it was a section of track where the max speed you can go is only like 40 miles an hour. It was enough time to react and slow the train."
Next - the crew set about finding Sampson's owner - while the bully got to ride in style out to the East end of the Island. Beck and the crew posted Sampson's picture to several LIRR Facebook groups - and got a hit about 20 minutes later.
Beck and the other workers reunited Francow and Sampson a few hours later - but not before the crew made sure to take plenty of pictures of Sampson enjoying the train.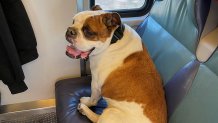 "As a dog owner myself I am glad that our crew went above and beyond to rescue Sampson and connect him with his owner," said LIRR President Phil Eng. "I look forward to providing a commendation for all of these employees and working with our labor leaders to acknowledge the true spirit of the workforce."