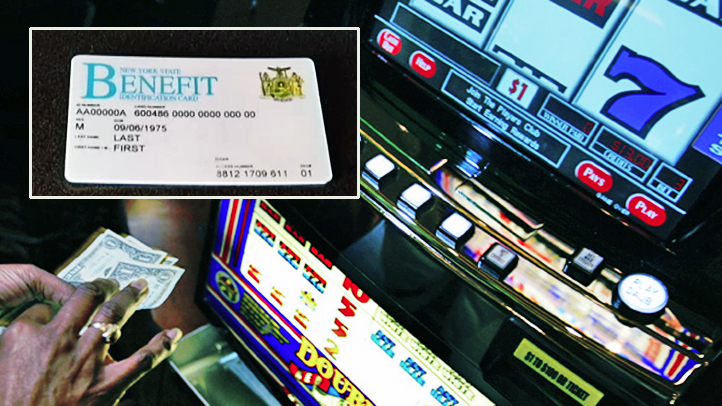 Tens of thousands of New York welfare dollars have been accessed from ATMs in liquor stores, strip clubs and even Atlantic City casinos, a News 4 I-team investigation has found.

Now Congress has passed a law that would ban such withdrawals. The ban, part of the payroll tax cut bill, is awaiting President Barack Obama's signature.

The I-team sifted through records of more than seven million ATM withdrawals in which money was obtained using an Electronic Benefits Transfer, or EBT, card.

The cards are used to access food stamp and other cash benefits in order to help New Yorkers buy basic necessities like groceries, diapers, clothes, and shelter.

For some New Yorkers, EBT cards can also be used to access designated amounts of cash via ATM.

The I-team found more than $95,000 withdrawn in Atlantic City over nearly two years, much of it in casinos like the Trump Taj Mahal, Caesar's Palace and The Borgata.

The New York State Office of Temporary and Disability Assistance, which administers Food Stamps, had no official comment, but in the course of the I-team's reporting, a spokesperson said having unrestricted EBT cards makes sense as the most efficient way to distribute food and cash assistance.

The welfare office also argued the amount of money withdrawn from casinos is minor when compared to the total pool of benefits spent on food assistance, a majority of which is used as intended.

During congressional debate on a proposal to ban the use of EBT cards at casinos, strip clubs and liquor stores, some Democrats argued that restricting the cards would be punitive and ineffective.

Despite objections, the law overwhelmingly passed the U.S. House.

Aside from casinos, the I-team found thousands of dollars withdrawn from ATMs at addresses tied to liquor stores and strip clubs. The most popular strip club for ATM withdrawals was a gentleman's club called "Perfection" in Woodside, Queens.
Joel Berg, Executive Director of the New York City Coalition Against Hunger, said there are lots of reasons a responsible welfare recipient might access cash at an ATM inside a liquor store even though she or he has no intention of buying alcohol.

"There may be an ATM in a bodega that has a higher fee than an ATM in a liquor store and I hope most of your viewers would say the responsible thing for a low-income person to do would be to go to the ATM with the lower rate," Berg said.