What to Know
A suspect in an attempted rape that was caught on video has been arrested, police say
A woman was trying to enter her Queens apartment when a man who had been following her grabbed her, police say
Christopher Prusa, 34, of Port St. Lucie, Florida, was arrested and charged with attempted rape, among other charges, police say
A suspect in an attempted rape in Queens that was caught on video has been arrested, police said Sunday.
Christopher Prusa, 34, of Port St. Lucie, Florida, was arrested Saturday evening, the NYPD said. He was charged with attempted rape, unlawful imprisonment, sex abuse, stalking, harassment, and drug charges including marijuana possession.
The victim trying to enter her apartment on 55th Street in Woodside at about 4 a.m. Friday when a man who had been following her grabbed her from behind, police said.
He grabbed her arms and pulled her toward him before she got away, police said. Some words were exchanged that indicated the attack was an attempted rape, police say. The attack was caught on surveillance video which police released.
The man ran off.
It wasn't clear whether Prusa had an attorney.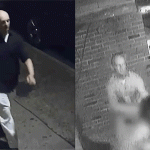 Top Tri-State News Photos