A man died Sunday after he was struck in the chest by a fellow straphanger who pulled a gun and fired at close range in a shooting authorities called unprovoked.
The shooting occurred on a northbound Q train traveling across the Manhattan Bridge around 11:45 a.m., police said at a news conference.
Witnesses told police the suspect paced back and forth in the train's last car before displaying a firearm and shooting a 48-year-old rider "without provocation." There'd been no prior contact between the two men, they said.
Police said the gunman fled the Q train after it pulled into its next stop at the Canal Street station. Officers were called to the station where they discovered the victim with a gunshot wound to his torso.
Emergency crews rendered aid and transported the man to Bellevue Hospital where he later died from his injuries, police said.
The victim was later identified as Daniel Enriquez, who worked for Goldman Sachs in its investment research division, where the company described him as a "dedicated and beloved" colleague.
"We are devastated by this senseless tragedy and our deepest sympathies are with Dan's family at this difficult time," Goldman CEO David Solomon said in a statement.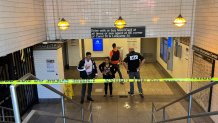 Transit officers were reviewing MTA surveillance video in hopes of tracking down the suspect and his movements throughout the transit system.
Police said the suspect was last seen wearing a dark-colored hoodie sweatshirt, grey sweatpants and white sneakers.
The shooting disrupted service for N and Q trains, which were rerouted to the R line between Dekalb Avenue and Canal Street.
Recent subway crime has set New Yorkers on edge.
A man opened fire inside a Brooklyn subway train last month, wounding 10 people. The alleged shooter faces terrorism and other charges. In January, a woman was pushed to her death in front of a subway train by a stranger.
Through May 15, major crimes in transit are up 63% this year over last year, according to NYPD data.
Copyright NBC New York/Associated Press