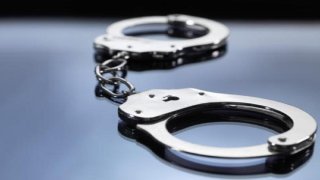 Federal authorities have charged seven high-ranking members of the Trinitarios gang with racketeering, murder and firearms violations in connection with two murders committed in 2013, law enforcement sources with knowledge of the case tell News 4.
The gang members belong to Sunset, a violent subset of the Trinitarios operating in and Sunset Park in Brooklyn and St. James Park in the Bronx, the sources said. Three gang members were arrested early Tuesday by teams of federal agents from the DEA and U.S. Homeland Security and investigators from the New York State Police and NYPD. The other four gang members were already in custody on state charges.
Those facing new charges include the group's purported leader Ediberto Santana (aka "Flaco Veneno"), as well as members Miguel Genao ("Sombra"), Carlos Ramirez ("Guerra"), Darinso Marte Reyes ("Cibao"), Angel Crispin ("Secreto"), Jose Marchal ("Menor" or "El Menol") and Eniel Vasquez ("Dominican Flow"), according to the indictment.
The criminal enterprise is accused of murder, robbery, kidnapping, narcotics trafficking and a slew of other crimes, according to the indictment, and each of the defendants allegedly ran or participated in the gang's misdeeds over the past decade, whether against rival gangs and rival Trinitarios crews or other individuals altogether. It was also part of the agreement that each defendant would carry out at least two of the racketeering activities, the indictment read.
The gang members are charged with the Oct. 23, 2013 killing of Michael Beltre and the Nov. 17, 2013 killing of Rafael Alam, according to the indictment. Both slayings happened in the Bronx.
It is believed that Santana and Ramirez, along with other individuals, shot and killed Beltre near Jerome Avenue and 193rd Street and Alam in order to gain entrance to or advance their position in the Sunset gang. Santana also directed the killing of Alam near Jerome Avenue and 174th Street, the indictment read.
The three gang members arrested will appear in federal court in Manhattan later Tuesday.
Copyright NBC New York