A passenger plane's wing was clipped by another jet Tuesday morning on the tarmac at LaGuardia airport, officials say.
Southwest Airlines Flight 449 was taxiing to a runway for departure at about 11 a.m. when the tip of one of its wings was clipped by the tail of American Airlines Flight 1104, which was headed to a gate, FAA officials say.
No injuries were reported. There were 143 passengers aboard each plane.
Both planes were able to leave the tarmac using their own propulsion systems. Photos from the scene show damage to the tip of the Southwest Airlines plane's wing. It's not clear if the American Airlines plane sustained heavy damage.
Passenger Plane Clips Another Aircraft at LaGuardia Airport: Port Authority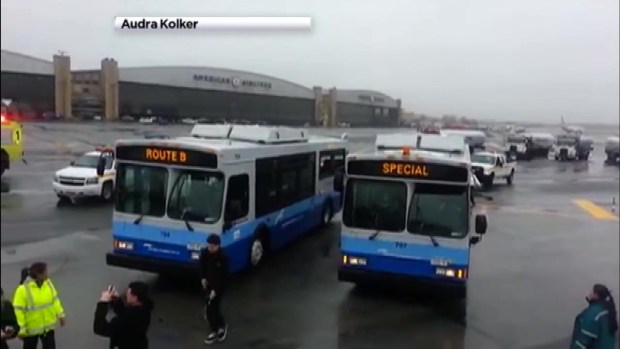 A New York Times editor who was on one of the planes posted photos of the broken wing on Twitter.
Port Authority officials said that the collision didn't affect operations at LaGuardia.
Southwest Airlines said it was working with passengers aboard its plane, which was bound for Denver, to make other flights.
The passengers aboard the American Airlines plane, which had flown in from Dallas, were able to make connections. Passengers for the plane's next trip were being flown on another jet.