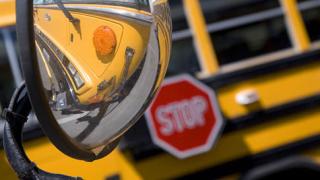 A Bronx special-needs student is in a coma after he opened his school bus' emergency exit door and fell out of the moving vehicle, his family told the Daily News.
Ajene Pediford, 12, fell out of the moving bus as it was traveling on East 156th Street in the Melrose section of the Bronx on Friday afternoon, his grandmother Nyahali Pediford told the News.
The bus was heading from the boy's school, Brooklyn Children's Psychiatric Center, to his foster home in the Bronx.
According to Pediford's grandmother, the bus driver was the only adult aboard the vehicle. She said she has asked for someone else to supervise the boy, who has a history of acting out on buses.
"I plead with them to get him a one-on-one para(professional) to be with him on the bus," Pediford told the newspaper. "And they never did it."
The News reached out to the school, Department of Education and the organization that placed Pediford in a foster home but didn't immediately receive responses.