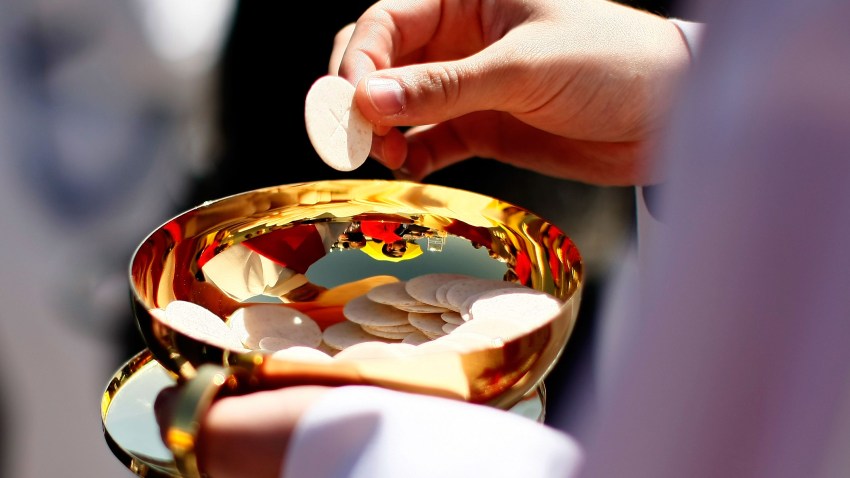 Catholics who received Holy Communion at a Long Island church on Christmas could have been exposed to hepatitis A, the Nassau County Department of Health warned Monday.
The disease could have been spread at Our Lady of Lourdes Church in Massapequa Park during two Christmas masses, the 10:30 a.m. and the noon service, according to the warning.
In Catholic masses, wafers and wine are distributed by priests, deacons, or lay people who train to become Eucharistic ministers.
News
Top news stories in the tri-state area, in America and around the world
A health department spokesman declined to say who was the hepatitis source but said the risk came through distribution of the wafers.
"I can't disclose any information on who may have transmitted it," said
Mary Ellen
Laurain, a spokeswoman for the Nassau County Department of Health. she did confirm that "a person involved in the Communion process has tested positive for hepatitis A."
"The risk is low but we want to make sure that anybody who received Communion on that day and those times could have been exposed," she added.
Health officials plan to offer vaccines at the church's auditorium Tuesday, from 3 to 8 p.m. and Wednesday from 9 a.m. to 3 p.m, at 855 Carmans Road.
The church had no comment, referring questions to the county health department.
The Hepatitis A virus is usually spread by eating food or drink that had been touched by an infected person, officials said. It could also be transmitted when a contaminated person's stool has infiltrated food. "Thorough hand washing after bathroom use and before and after food preparation is the most important means to prevent the spread of this and other intestinal illnesses," the warning said.
Rarely fatal, the disease can trigger an abrupt fever, nausea, stomach pain, jaundice, fatigue or poor appetite, said the health department. Symptoms appear usually within 28 days of exposure and most who fall ill recover within a few weeks, officials said. Those at risk should get vaccinated within two weeks of any potential exposure, said the warning.
.