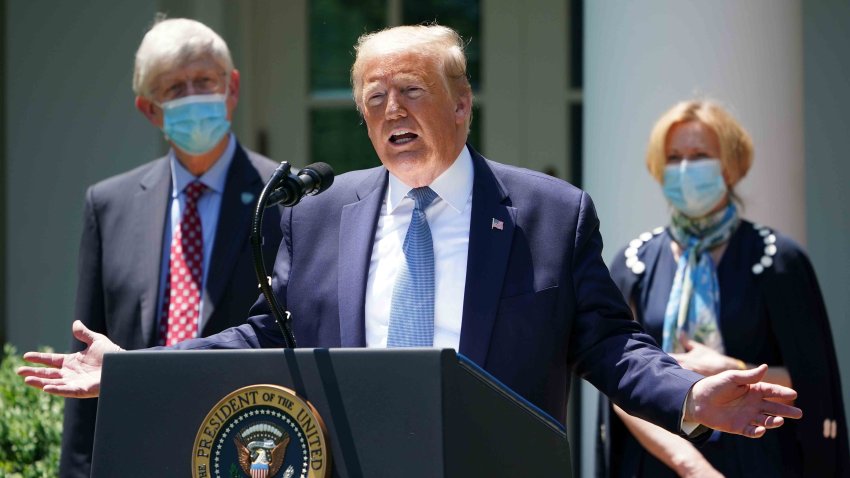 As businesses are reopening in more of the U.S., an overwhelming majority of states still fall short of the COVID-19 testing levels that public health experts say are necessary to safely ease lockdowns and avoid another deadly wave of outbreaks, according to an Associated Press analysis.
Among the states falling short are Texas and Georgia, which recently moved aggressively to reopen stores, malls, barbershops and other businesses.
Also Friday, Democrats approved a massive $3 trillion coronavirus response bill in the House over Republican opposition. It aims to prop up a U.S. economy in free fall and a health care system overwhelmed by a pandemic.
But the measure has no chance of passing the GOP-controlled Senate and has already drawn a White House veto threat.
The U.S. now has more than 1.4 million virus cases and is nearing 90,000 deaths, according to a tally from Johns Hopkins University.
Here are the latest developments in the coronavirus crisis in the U.S.:
---
Cuomo Gets Tested for Coronavirus on Live TV
New York Gov. Andrew Cuomo got tested for coronavirus on live TV Sunday as he announced all people in the state experiencing flu-like symptoms are now eligible for tests.
Any New Yorkers experiencing flu-like symptoms or those who will be returning to work as part of phased reopenings across the state can now get tested, Cuomo said.
The state is expanding eligibility as it deals with a surplus of testing capacity. Cuomo said drive-thru and walk-in testing sites are performing about one-third of the 15,000 tests they're capable of each day.
In all, the state is testing about 40,000 people per day.
An agreement with CVS will allow samples to be collected at more than 60 pharmacies across the state, Cuomo said. Testing in New York City is being expanded to 123 CityMD walk-in clinics.
New York Mayor Bill de Blasio also made an urgent appeal Sunday for blood donations, saying coronavirus-related blood drive cancellations have led supplies to dwindle to about two days' worth, which could mean postponing some surgeries.
---
LAPD Wants Virus Test for Everyone Arrested
The Los Angeles Police Department wants to test everyone its officers arrest to determine whether they are infected with the coronavirus.
Police Chief Michel Moore told the department's civilian oversight body last week that jails are testing all new arrivals, but the results take days to come back. He said real-time data from a rapid-result test would help authorities isolate sick detainees, keep others detained in local jails safe and quickly alert officers to any potential exposure.
Moore is asking city officials to purchase a rapid-result testing system, but it's unclear whether such a system will produce accurate test results.
---
White House Adviser: CDC Early Response to Outbreak 'Let the Country Down'
One of President Donald Trump's top economic advisers is criticizing the Centers for Disease Control and Prevention's early response to the coronavirus outbreak, saying it "let the country down" after initial delays with testing.
White House trade adviser Peter Navarro declined to say when asked Sunday on NBC's "Meet the Press" whether Trump had confidence in the CDC to lead the U.S. pandemic response, saying that was a question for the president.
But Navarro says the CDC "set us back" in the early weeks of the outbreak.
CDC struggled to develop its own diagnostic test for the coronavirus in January, later discovering problems in its kits sent to state and county public health labs in early February.
It took the CDC more than two weeks to come up with a fix, leading to delays in diagnoses as the virus rapidly spread.
Health and Human Services Secretary Alex Azar on Sunday said he disagreed the CDC had let the nation down. He told CBS' "Face the Nation": "I believe the CDC serves an important public health role."
---
California Resident Attends Church on Mother's Day, Tests Positive for Virus
A person who attended a religious service on Mother's Day has tested positive for the coronavirus, possibly exposing it to more than 180 members of a congregation.
The church in Butte County, north of Sacramento, chose to open its doors despite rules banning gatherings of any size, county public health officials said in a statement Friday.
"Moving too quickly through the reopening process can cause a major setback and could require us to revert back to more restrictive measures," the statement said.
Most people with the virus experience fever and cough for up to three weeks. Older adults and people with existing health problems can face severe illness, including pneumonia, and death. The vast majority recover.
---
Trump Says He'd Like to See Crowds at Sports Venues by Fall
President Donald Trump called into a charity golf tournament broadcast Sunday and promised Americans a speedy return to normalcy that sounded far more optimistic than most experts say is realistic.
Trump hailed the event — broadcast on NBC — and said he'd like to see crowds packing into sports venues by this fall, whether or not a cure for the coronavirus is developed.
He said, "We're looking at vaccines, we're looking at cures and we are very, very far down the line," adding: "I think that's not going to be in the very distant future. But even before that, I think we'll be back to normal."
Experts, however, say finding a cure that fast is far from certain and have warned that easing restrictions too quickly could cause the virus to rebound.
Trump said events would likely resume with small crowds — if any — but hopes that by the time The Masters is played in November, the crowds can return.
"We want to get it back to where it was. We want big, big stadiums loaded with people," he said. "We want to get sports back. We miss sports. We need sports in terms of the psyche, the psyche of our country."
The TaylorMade Driving Relief is being played at Seminole Golf Club in Florida to raise money for COVID-19 relief. There are no crowds, no caddies and a limited TV crew, all following social distancing guidelines.
---
Atlanta Zoo Opens Outdoor Exhibits
Outdoor exhibits along a one-way flow for visitors at Zoo Atlanta opened Saturday for the first time since mid-March, but indoor habitats, rides, playgrounds and other attractions remain closed because of COVID-19.
The Atlanta Journal-Constitution reports the zoo is limiting the number of visitors by requiring them to make reservations with specific times to enter the park.
Zoo employees had to answer a health survey and have their temperatures taken before returning to work.
Zoo Atlanta deputy director Hayley Murphy says disinfectant is used on the grounds every 60 to 90 minutes and every hour in restrooms.
---
Louisiana Governor Releases Proposal to Close Budget Gap
Louisiana Gov. John Bel Edwards' proposal to close a $1 billion budget gap caused by the coronavirus pandemic would avoid deep cuts to health care and education programs by relying on hundreds of millions in federal relief aid and a portion of the state's "rainy day" fund.
Under the plan offered by Edwards, Louisiana would use nearly $1.2 billion in federal assistance approved by Congress to respond to the pandemic and about $90 million from the rainy day fund to fill most of the gaps in the state's $30 billion-plus budget.
The recommendations would require only modest reductions in the financial year that begins July 1. The free college tuition program, K-12 schools and the social services department would be spared cuts entirely, though college campuses and health programs would take hits.
The Edwards administration submitted its reworked budget proposal to legislative leaders Friday night.
---
8 More Sailors Aboard the USS Theodore Roosevelt Test Positive Again
Eight more sailors aboard the USS Theodore Roosevelt have tested positive a second time for the new coronavirus, raising to 13 the number who appear to have become infected again while serving aboard the sidelined aircraft carrier.
All the sailors had previously tested positive and had gone through at least two weeks of isolation. Before they were allowed to go back to the ship, all had to test negative twice in a row, with the tests separated by at least a day or two.
On Saturday, a Navy official confirmed eight additional sailors had tested positive again. A day earlier the Navy had said in a statement that five had tested positive a second time. The Navy official was not authorized to speak publicly and requested anonymity.
---
Loosened Restrictions, Mask Edict Take Effect in New Mexico
The loosening of some restrictions imposed on nonessential businesses by New Mexico's governor to slow the coronavirus outbreak's spread took effect Saturday, along with a new edict that people wear masks in public under most circumstances.
State officials reported six additional deaths from the outbreak and 185 additional COVID-19 cases.
The loosening of restrictions applied to most of the state but not in the northwest region, where much of the outbreak is centered. Retailers and many services, along with houses of worship, can reopen at limited capacity.
Gov. Michelle Lujan Grisham ordered that face masks be worn in public, except with exceptions that include eating, drinking and exercising.
---
Obama Says Many Officials "Aren't Even Pretending to Be in Charge"
Former President Barack Obama on Saturday criticized some officials overseeing the coronavirus response, telling college graduates in an online commencement address that the pandemic shows many officials "aren't even pretending to be in charge."
Obama spoke on "Show Me Your Walk, HBCU Edition," a two-hour livestreaming event for historically black colleges and universities broadcast on YouTube, Facebook and Twitter. His remarks were surprisingly political and touched on current events beyond the virus and its social and economic impacts.
"More than anything, this pandemic has fully, finally torn back the curtain on the idea that so many of the folks in charge know what they're doing," he said. "A lot them aren't even pretending to be in charge."
Obama did not name President Donald Trump or any other federal or state officials.
As he congratulated graduates and commiserated over the difficult world they face, the former president noted the February shooting death of Ahmaud Arbery, 25, who was killed while jogging on a residential street in Georgia.
"Let's be honest: A disease like this just spotlights the underlying inequalities and extra burdens that black communities have historically had to deal with in this country," Obama said. "We see it in the disproportionate impact of COVID-19 on our communities, just as we see it when a black man goes for a jog and some folks feel like they can stop and question and shoot him if he doesn't submit to their questioning."
Obama will also deliver a televised prime-time commencement address later Saturday for the high school Class of 2020 during an hour-long event that will also feature LeBron James, Malala Yousafzai and Ben Platt, among others.
---
Judge Blocks Enforcement of Restrictions in N.C.
A federal judge on Saturday blocked the enforcement of restrictions that North Carolina Gov. Roy Cooper ordered affecting indoor religious services during the coronavirus pandemic.
The order from Judge James C. Dever III came days after two Baptist churches, a minister and a Christian revival group filed a federal lawsuit seeking to immediately block enforcement of rules within the Democratic governor's executive orders regarding religious services. Dever agreed with the plaintiffs, who argued that the limits violate their right to worship freely and treat churches differently from retailers and other secular activities.
Cooper's latest order still largely prevented most faith organizations from holding indoor services attended by more than 10 people. His office had said the newest order stating permitted services may "take place outdoors unless impossible" carries only a narrow exception, such as when religious activities dictate they occur indoors with more people.
Cooper's spokesman, Ford Porter, said the governor's office disagrees with the decision but will not appeal.
---
California City Declares Itself a "Sanctuary" From Stay-at-Home Order
More parks and hiking trails welcomed visitors again in California, and one city declared itself a "sanctuary" from the state's stay-at-home order as diverse regions carved their own path toward reopening.
Officials in Atwater, a city of 30,000 in central California, unanimously agreed not to enforce a nearly 2-month-old order intended to slow the spread of the new coronavirus. That means local authorities won't interfere with any business or church that decides to reopen ahead of state restrictions.
The declaration was a symbolic gesture of defiance against Gov. Gavin Newson's order, and the city's mayor cautioned that businesses were taking their own risks by reopening.
California is moving through the second phase of relaxing its restrictions. Businesses deemed lower risk have been gradually allowed to reopen, with retailers offering curbside pickup.
---
More Than 35,000 Covid-19 Tests Allegedly Unreliable
The results of more than 35,000 COVID-19 tests ordered by a Florida-based health care system and performed by a third-party lab are unreliable, the company said Saturday.
According to AdventHealth, a faith-based health care system, the situation has created "unacceptable delays." AdventHealth didn't name the third-party lab but said it had terminated its contract with the lab.
The tests were a mixture of positive and negative results, and some had been at the lab for a while. About 25,000 of the unreliable tests were in the central Florida area.
AdventHealth president and CEO Terry Shaw said the company will notify patients who are impacted.
AdventHealth has 49 hospitals in nine states. Company spokeswoman Melanie Lawhorn said two of those states are joint venture systems and were not affected by the unreliable testing.
---
How Coronavirus Has Grown in Each State — in 1 Chart
New York has quickly become the epicenter of the American coronavirus outbreak. This chart shows the cumulative number of cases per state by number of days since the 10th case.
Source: Johns Hopkins University
Credit: Amy O'Kruk/NBC
---
US Begins 'Warp Speed' Vaccine Push as Studies Ramp Up
President Donald Trump vowed to use "every plane, truck and soldier" to distribute COVID-19 vaccines he hopes will be ready by year's end — even as the country's top scientists gear up for a master experiment to rapidly tell if any really work.
Trump on Friday declared the vaccine program he calls "Operation Warp Speed" will be "unlike anything our country has seen since the Manhattan Project."
The goal is to have 300 million doses in stock by January, a huge gamble since a vaccine never has been created from scratch so fast — and one that could waste millions if shots chosen for the production line don't pan out. As the manufacturing side gets into place, the National Institutes of Health is working in parallel to speed the science.
But experts say that the development, testing and production of a vaccine for the public is still at least 12 to 18 months off, and that anything less would be a medical miracle.
Trump's own top infectious disease expert, Dr. Anthony Fauci, told the TODAY show last month that January 2021 is the earliest a vaccine could be ready, but cautioned that that timeline is "aspirational" and based on companies producing a vaccine before researchers are sure of its efficacy.
At least four or five possible vaccines "look pretty promising" and one or two will be ready to begin large-scale testing by July with others to follow soon, NIH Director Francis Collins told The Associated Press.
"The big challenge now is to go big and everybody is about ready for that. And we want to be sure that happens in a coordinated way," Collins said.
That year-end goal is a "very bold plan ... a stretch goal if there ever was one," he said in an interview late Thursday.
Worldwide, about a dozen vaccine candidates are in the first stages of testing or poised to begin, small safety studies in people to look for obvious problems and whether the shots rev up the immune system. Among those getting the most attention are one created by the NIH and Moderna Inc., and a different type created by Britain's Oxford University.
Current tests "are looking pretty good," Collins said. "But until you put it into the real world and check it out you don't really know. You can't skip over that really, really hard part of testing this in thousands and thousands of people."
---
Work From Home Congress? House OKs Proxy Votes
From now on, lawmakers will be allowed to cast House floor votes by proxy — without being "present" as the Constitution requires. The next step will allow them to skip the middle-man and simply vote remotely once leaders approve the technology.
Under the new rules, House lawmakers will no longer be required to travel to Washington to participate in floor votes. Some will. But others can assign their vote to another lawmaker who will be at the Capitol to cast it for them. A single lawmaker can carry 10 proxy votes to the chamber.
The House approved the new rules Friday, during what could likely be the chamber's last fully in-person votes for the foreseeable future.
The shift will dramatically change the look, if not the operation, of the legislative branch — launching a 21st century WFH House, like others, "working from home."
Just as important, the House committees — the bread and butter of legislative work — will be able to fully function remotely. Committee hearings are prime-time for lawmakers — the chance to grill officials, spar with colleagues and have much of it captured on C-SPAN. House lawmakers will be able to draft bills, conduct oversight and even issue subpoenas from the comfort of their homes.
"This is no revolutionary, radical change," Hoyer told The Associated Press in an interview. "This is exactly what the Founders wanted to happen."
Neither Civil War nor Great Depression or any other national crisis had spurred the House to allow its members to vote from home, a sign of how deeply the virus outbreak act is disrupting the institutional norms of American life.
---