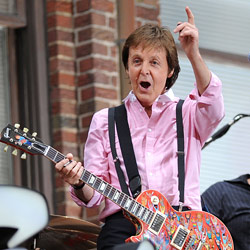 Yo La Tengo, Dec. 9-Dec. 15, Maxwell's, $35
A holiday tradition that has become almost as venerable as the lighting of the Rockefeller Center tree and the fruit cake you didn't want to be given, Yo La Tengo has again returned to Hoboken's best rock venue for an eight-day celebration of Hanukkah. You can expect to hear songs from their upcoming album Fade, classic college radio fuzz jams like "Sugar Cube" and a different surprise opener each night. Every rock band worth liking likes these guys, so nearly anything can happen this week. Well, we doubt Sir Paul McCartney will drop by, but you should never write off the possibility of The Boss proving yet again that he's a down bro. Also, this is for charity, so don't complain about having to go to Jersey.
Smashing Pumpkins, Morning Parade, Dec. 10 at Barclays Center, $24
We've been pretty public about our mixed feelings about the post-reunion Smashing Pumpkins. Too much public Corgan carping, not enough sweet symphonic riffage. But the new album Oceania finally won us over, and much to our surprise we now find ourselves excited without caveat to see the Smashing Pumpkins again. The show reviews have been uniformly fantastic, and with a set list reportedly split between the excellent new album and classic singles, this night should go a long way towards soothing the often-bruised feelings of SP loyalists. And Billy, should you be reading this, if you throw in "Set The Ray To Jerry" then all we be forgiven forever. Also, you can buy special Hurricane Sandy relief tickets here, which is pretty cool of Billy.
Paul McCartney, The Rolling Stones, Bruce Springsteen and The E Street Band, The Who, Dave Grohl, Billy Joel, Eddie Vedder, Jon Bon Jovi, Kanye West, Alicia Keys, Dec. 12 at Madison Square Garden, Various Prices
Tickets for this thing range from $150 to $2,500. But did you see that line-up up there? If nothing on that bill excites you you just don't like music. Plus it all goes to Sandy Relief, so dig deep. Sir Paul McCartney will almost certainly organize everyone in to a group sing-a-long at the end, and it will probably be "Carry That Weight," and you wouldn't want to miss that even if it means missing a rent payment.
Sleigh Bells, Grizzly Bear, The Antlers, Cults, Dec. 14 at Terminal 5, $40
We don't want to say "another Sandy Benefit" about this, because that sounds blasé and people still desperately need support and good for the artists for doing this and good for you for showing up. You're showing up to one of these, right? Anyway, this is a much less schizophrenic bill than the MSG All-Star Bonanzas, but just as exciting if you like your music moody and pensive, which is often the case with us. You have three bands that could more or less be described as dreamy and atmospheric, and then a headliner that sounds like Slayer on bath salts fighting a trash compacter. The tonal whiplash should make for a fun evening.
The Men, Widowspeak, Lust For Youth, DJ Sacred Bones, Dec. 14, Saint Vitus Bar, $12
Oh, to heck with it. Let's just make this an all charity Week Ahead. Just because you're broke all the time doesn't mean you can't attend a Sandy benefit. The good people at Pitchfork and Saint Vitus, Greenpoint's finest heavy metal bar, organized this cheap in price and rich in spirit benefit, featuring sets from Brooklyn punk warriors The Men and Brooklyn balladeers Widowspeak, both of whom are often forlorn of heart in wildly different ways.