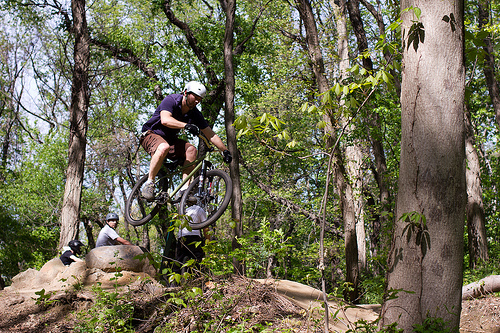 All these new bike lanes are fine and dandy for commuters, spandex-wrapped roadies, hipster cyst-laden fixies, basket-toting errand runners, and David Byrne, but if it's off-road adventure you seek, not even the occasional puddle or pothole or even passed-out drunk demanding to be bunny hopped is satisfying. While fat tires are not welcome in most of the city's park, there are three areas of urban wilderness in which mountain biking is not only allowed, but encouraged.

Highbridge Park in Inwood, Manhattan runs along the rocky cliff above Harlem River Drive between 155th Street and Dyckman Street and -- just half-a-block from the 1 train -- couldn't be easier to get to. The trail was built by Trail Solutions, a division of the International Mountain Biking Association that uses former pro-riders as design consultants. Thus, in addition to an easy beginner's loop, the three mile course includes a dirt jump park complete with "pump track" (small consecutive hills), "berms," or steeply banked corners, and five jumps for perfecting your table-top.

It you prefer dodging tree roots to rocks, the four mile trail in Wolfe's Pond Park in Staten Island winds through a plant and wildlife preserve surrounding the pond and, located on the southeastern coast of the island, also includes some beachfront sections. Local BMXers-turned-environmentalists have been busy the last few years digging up old appliances that teenagers (probably the very same riders, just when they were younger) used to make jumps. They are replacing the rusted-out frigidaires with logs and dirt for more reasonably sized and nature-friendly launching pads.

The 6.5 miles of trails in Cunningham Park in Fresh Meadows, Queens feature a color-coded system to accomodate all skill levels. Green is a ride through the woods, Blue throws in some rolling hills and tighter turns and the Black Diamond gives you something to practice for. With the longest and the most diverse rides, Cunningham Park has been called "urban mountain biking at it's best."

For maps of all the trails as well as helpful tips on riding, check out the New York City Mountain Biking Association.
Copyright FREEL - NBC Local Media