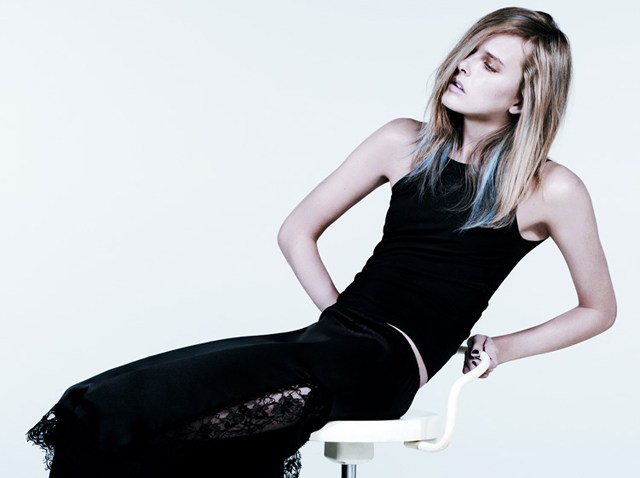 Vanessa Traina debuted her highly anticipated capsule collection with French brand Maje last night at Barneys (the store is holding the US exclusive on the collection).

The many adoring fans that showed up to support Traina included Joseph Altuzarra (who considers Traina a muse and consultant), Proenza Schouler's Lazara Hernandez and Jack McCollough, Alexander Wang and Mary Kate and Ashley Olsen (wearing fall 2011 pieces from their The Row collection). It was a guest list which attests to Traina's growing influence behind the scenes for New York's most influential designers.
Traina has been collaborating with Maje for several seasons — often appearing in the brand's ad campaigns — but this is the first foray for the "it" girl into design. The collection is comprised of 14-pieces designed to hark back to '90s era minimalism and lingerie influences — all are black, and all are surprisingly well priced. (For instance: There is a single button blazer priced at $430 and silk shorts priced at $155.)

Traina says of the collection, "I really wanted to make pieces that could slip seamlessly into anyone's wardrobe, so the idea was a seasonless collection, something that you'd want to buy now, but wear beyond spring. That's why it's all in black. My close friends who have seen the collection have told me that they really see me in the collection, which I take as a compliment. I really put a lot of myself into this collection."
As for how Traina feels about the transition from consultant to designer? "The difference is my name is all over these pieces so that's a little exciting but also scary," she says. "When you take the reins on a project like this, you start thinking, does everyone else want to dress like this too?"
This collection is the first in a string of high profile launches for Maje, which is focusing on growing its presence in the US market. The brand is opening a store on Bleecker Street, its first US outpost, this fall.