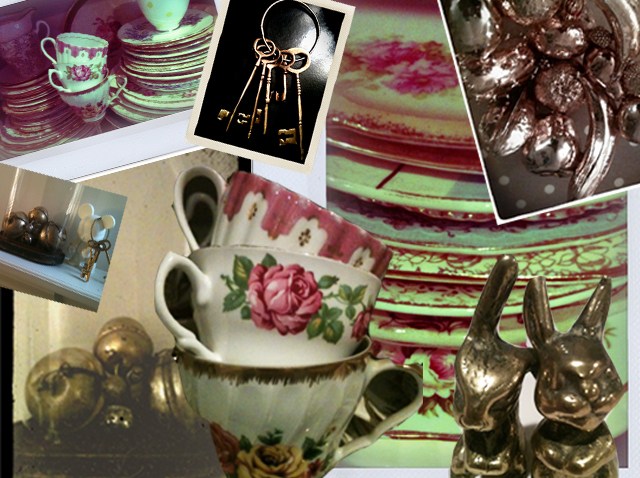 Like rummaging through an artist's bookshelf or desk-drawer notes, we often find that fashion designer's personal collections offer extra insight into their brand's aesthetic. Preen designers Justin Thornton and Thea Bregazzi have built their company conjuring up imaginative takes on traditional ladylike looks season after season. No surprise, then, that their personal collections are equally unusual.
Thea's love for vintage gold-trimmed crockery calls to mind some of the garden-appropriate looks shown on their spring runway. "These pieces remind me of tea parties in my grandmother's garden," she explains. "They are mis-matched and very delicate, usually floral, but they must have some gold on it too."
Likewise, Justin's collection of antique brass artifacts feels congruous with some the stronger, more sculptural shapes in Preen's fall collection. "We started collecting unique brass objects after finding some amazing brass bells at a vintage market in Tokyo about ten years ago," says Justin. "Our collection has grown since then. I just love the way the brass ages and has a strong, but delicate look to it."
Highlights from the assortment include a pair of brass bunnies, Japanese bells, gigantic antique keys, brass fruit and brass baby feet.