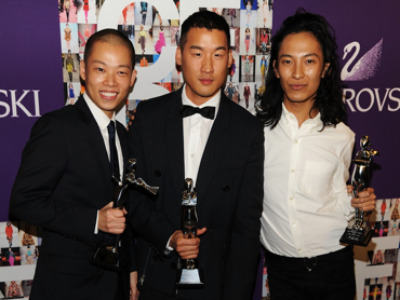 Past the glitz and glamour of the red carpet arrivals, the awards handed out at last night's CFDA ceremony provided a brief glimpse into the pulse and status of the American fashion industry.
Womenswear Designer of the Year
Winner: Marc Jacobs
Jacobs was up against fairly stiff competition -- on one side, the skyrocketing up-and-comer Alexander Wang; on the other, beloved veteran Donna Karan, celebrating her 25th year in the industry -- but Jacobs' win was inarguably deserved when viewed in the context of his staggeringly well-received Fall 2010 collection.
Menswear Designer of the Year
Winner: Rag & Bone
Of all the categories, to us this seemed the most cut and dry. David Neville and Marcus Wainwright's collections for the label keep getting better and better, bringing the label's status up from downtown indie to full-fledged star. Winning in a category like this against a heavyweight like Tom Ford is especially revealing -- indies are the new all-stars.
Accessories Designer of the Year
Winner: Alexis Bittar
Considering the competition, we were frankly surprised Bittar won out, despite the fact that he's been creating original, modern jewelry pieces for quite some time (and, of course, deserves recognition). Bittar beat out Marc Jacobs (whose accessories are, of course, immensely successful) and Lazaro Hernandez and Jack McCollough for Proenza Schouler, who pretty much created the It-bag of the season in the PS1. Bottom line: Well done, Bittar.
Swarovski Award for Womenswear
Winner: Jason Wu
This was really the category that had everyone riveted. Each contender in this "rising stars" category had a reason to win: Prabal Gurung has exploded to commercial success this year (from Michelle Obama ensembles to celebrity red carpet appearances), while Joseph Altuzarra has emerged as an incredibly popular darling among editors -- from The Times' Cathy Horyn to French Vogue's Carine Roitfeld. In the end, however, it was Jason Wu who proved most deserving: This isn't the first time Wu has found himself among the Swarovski nominees, and this is his official nod from the industry that next year, he'll be competing for the evening's big award for womenswear.
Swarovski Award for Menswear
Winner: Richard Chai
Much like Wu, Chai is already an industry favorite and after snatching up a win for what's really his first foray into menswear, we expect to see the designer competing for one of the bigger awards by next year. It will be interesting to see, also, if his womenswear starts advancing into nominee status as well. The other nominees in this category -- Patrik Ervell and Simon Spurr -- are also immensely talented, so we expect to see their names here in the coming year.
Swarovski Award for Accessories
Winner: Alexander Wang
Unlike in the main competition over accessories, one of the year's It-bags won out in this category: Alexander Wang's sold-out-everywhere Coco Duffel (along with his spectacular shoes, of course), nabbed him the big prize here. Dana Lorenz of Fenton-Fallon provided a smidge more competition over fellow jewelry designer Eddie Borgo (a J.Crew collaboration this year has really boosted her visibility overall), but seriously, it was Wang full stop.
Popular Vote
Winner: Ralph Lauren
Indie popularity, talented upstarts, and Michael Kors's lifetime achievement award notwithstanding, Ralph Lauren took home the popular vote for the second year running. While the fashion community might puzzle over the choice -- frankly Lauren's collections haven't been ground-breaking or even particularly thrilling of late -- it's a window into what the rest of the world sees as top fashion; namely, visibility.