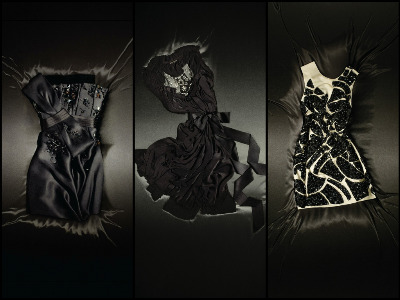 Swarovski Elements is bringing the bling this month. From September 7-20, the luxury crystal purveyor will present its "22 Ways to Say Black" exhibit, showcasing crystal-encrusted black dresses created by a slew of fashionable names like Lanvin, Armani, Donna Karan, Thakoon, Phillip Lim and more. On September 20, as a grand finale of sorts, First Lady of France Carla Bruni-Sarkozy will oversee an auction of the pieces by Phillips de Pury.
We all have one go-to little black dress (or maybe a few) in the closet—it's a fail-safe item for just about any occasion, which makes perfect sense that Swarovski would commission some of the industry's top designers to raise the bar for this reliable gold standard.
As if the dazzling frocks weren't enough incentive, proceeds from the September 20 dress auction will benefit the American Cancer Society and La Ligue Nationale Contre Le Cancer in France.