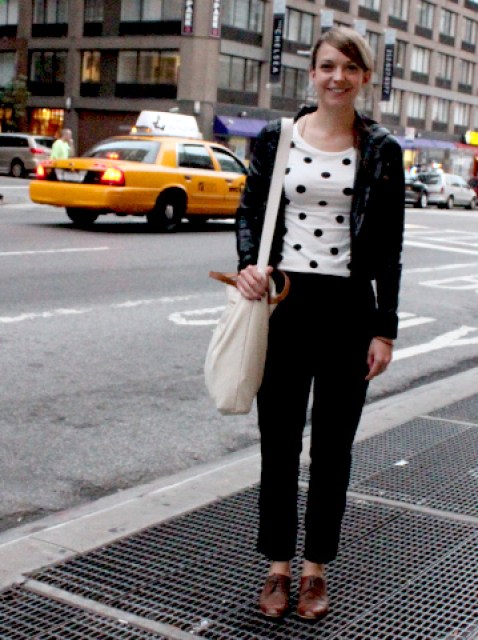 One of the key trends to try this season is polka-dots, and Stefani Kim -- whom we spotted just outside the Chelsea Whole Foods -- demonstrates precisely how to style the look without looking like a modern Minnie Mouse. If you aren't prepared for head-to-toe spots (much like Marc Jacobs' Fall collection), then make like Stefani and incorporate a single pop of the pattern with a playful pullover.
Name: Stefani Kim
Hometown: NYC
On My Way: "Walking back home."
Today I'm Wearing: "Silky American Apparel trousers, an H&M sweater, leather jacket from Urban Oufitters, Madewell brogues and a Rebecca Taylor printed satchel."
My Signature Middle-School Style: "Sloppy yet girly."
My Style in Three Words: "Flexible, random, and playful."
If I Could Sit Front Row at Any Fashion Show, It Would Be: "Definitely Alexander Wang!"