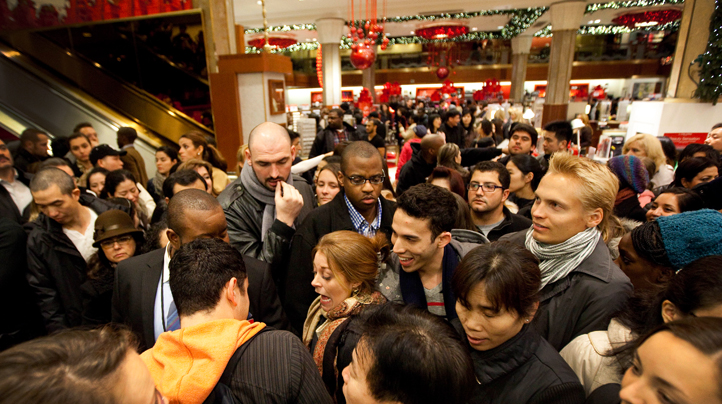 All the promotions, deep discounts and super-extended hours paid off this week, because shoppers turned out in record numbers for Black Friday this year, exceeding even pre-recession figures.
The New York Times reports that total spending per shopper increased 9.1 percent over last year, at an average of $398.20 per person (up from $363.54 last year).
The result is somewhat surprising given the country's current economic situation and soaring unemployment rate, but retailers find themselves encouraged as they head into their busiest sales season.
As Macy's CEO Terry Lundgren told WWD, consumers are actually more confident this year in spite of the precarious American job market. "What feels different this year is the consumer has a better understanding about their financial situation. They know where they stand with their jobs, if they have them, and are less likely to be as exposed to the financial markets ... There's definitely consumer demand. They've got money to spend."
We surveyed a few of our favorite local boutiques to see how small business fared amid the Black Friday madness, and results were generally consistent with national findings.
"We were extremely busy," said Natasha, a sales associate at LES boutique, Assembly. "We were offering customers 15 percent off, so that definitely brought people in. Accessories did really well I think overall, and bags -- especially the high-ticket Steven Mono and Makr/Assembly totes, which did really well. I heard we had a really good day [Saturday], too."
At Cynthia Rowley, online and in-store promotions "brought in a lot of people on Friday and Saturday," a store manager on Bleecker Street told us. "We've had really great traffic. We have these really beautiful brocade dresses that have been flying out the door."
Increased foot traffic in Soho seems to have benefited smaller stores in addition to mass retailers. "You know, we're a boutique, so I don't think it was like J.Crew traffic or anything," a JNBY sales associate told us. "But we did have a great sale, and I think Black Friday was a little crazy for that reason."
Even Brooklyn boutiques enjoyed a bit of Black Friday chaos. The popular Greenpoint shop, Dalaga, saw "a lot of support for local business and shopping small," one sales associate told us. "It was definitely better than last year. Dresses are always big for us, and people were going for party dresses or even just everyday dresses."
Maya Tanaka, who works at neighboring jewelry and home boutique, Old Hollywood, remarked that "boots were really strong sellers. We have some really nice leather boots by Freebird and Remix ... a lot of Pendleton product sold well, especially now that it's getting cold."