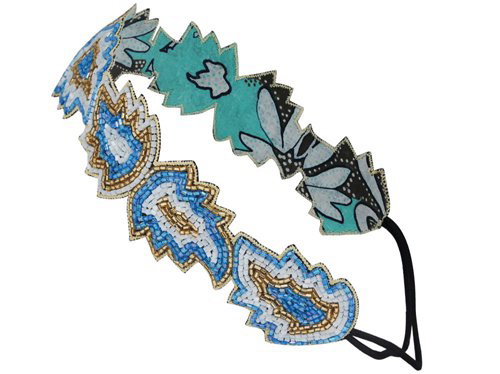 Not everyone gets Alexander McQueen and Fendi on their resume before they've even graduated college, but designer Deepa Gurnani created hand-beaded pieces for both houses while studying at Central Saint Martins.
Thoroughly prepared for the big time, the Mumbai-born Gurnani launched her eponymous collection with husband and fine-jeweler, Jay Lakhani, for "everyone who loves bling," drawing upon her Indian heritage to create some of the liveliest, sparkling-est accessories on the market.
After launching in 2006 with a small collection of hair accessories, caftans, scarves and handbags, the couple recently added luxe jewelry offerings to the collection, rounding out the already glitzy line-up. "As strange as it may sound we have the same thought process and design aesthetics," explains Jay, who also oversees the sales of the brand while Deepa manages its finances. "Both of us are extremely involved in the design process."
Inspired by 1920's glamour, both designers place a strong emphasis on construction and detail, believing that the finished piece should be as gorgeous from the outside as it is on the back. "We believe beauty is within and without," says Jay. "Special attention is paid to the lining techniques of all our products." Rest assured, then, that a Deepa Gurnani handbag looks as good on your shoulder as it does when you're rifling around for a wallet.