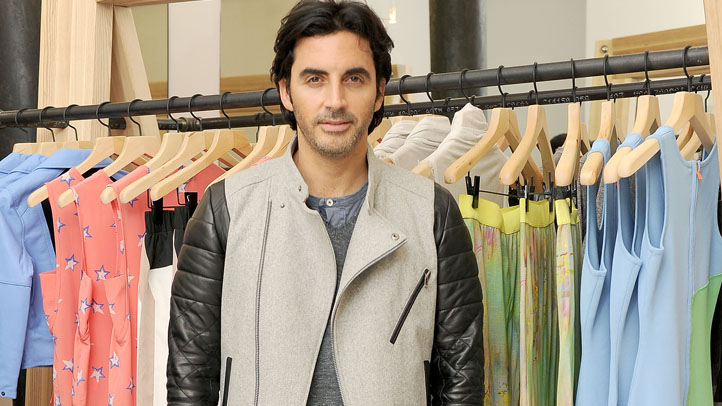 Yigal Azrouël launched his secondary line, Cut 25, in 2010, and the line has since taken off as the younger and trendier sibling to Azrouël's namesake line (it hasn't hurt that nothing in the collection is over $500).

Thanks to the line's success, Azrouël has just opened a brick-and-mortar shop on the hip stretch of Soho's Grand Street that also houses Alexander Wang's retail outpost. And there are two more Cut 25 stores planned for later this year: one on Bleecker Street, and one on Third Avenue in the 60s. By 2013, Azrouël would like to have ten Cut 25 locations.
Interestingly, Cut 25 is Azrouël's second stab at a diffusion collection -- the designer previously had lower-priced line called Yigal, which was predominantly filled with dresses. This time around, Azrouël seems to have gotten the product mix right. At the opening night party, we walked into the store and found neon techno knits, motorcycle jackets and printed silk dresses. A handbag line is in the works for next year, and the designer is considering adding sunglasses, shoes and swimwear to the collection.
Azrouël worked on his debut Cut 25 store, where clothes hang from sculptural wooden racks, with designer Dror Benshetrit. Renowned in his own right having worked with everyone from Cappellini to Target, Benshetrit also happens to be Azrouël's nephew. "He's really my best friend," says Azrouël. "He knows me so well."
As for the concept of the store, Azrouël tells us, "It's about the name Cut 25. Everything is cut at a certain angle. I wanted a space that would allow collaborations. This is one of the first installations that Dror did with cut wood. We can move things around, we can adjust it -- its very conceptual and very minimal."
Azrouël said of the line, "It's about affordability. Trendy pieces -- buy it now and wear it now. It's really important to me to make clothes that people can actually afford to buy."
With the Cut 25 empire rapidly growing, Azrouël said, "We are focusing on building a three-prong vertical retail plan including brick and mortar, shop-in-shops and e-commerce, coupled with brand extensions into new product categories."
He also said Cut 25 is poised to grow internationally. "We have some core partners in Great Britain, the Middle East, Europe and Asia. There are tremendous growth opportunities in these areas."
As for what his Fall 2012 eponymous collection will look like, Azrouël kept mum. "I'm still working on it," he said. "You're just going to have to wait and see. I've had a lot of late nights lately."