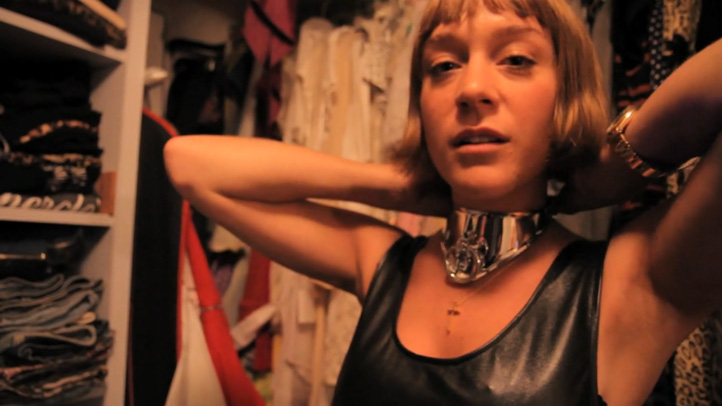 Actress and all-around It-girl Chloe Sevigny first teamed up with Opening Ceremony back in 2008 to design a collection based around her own often-imitated downtown, eclectic style. This week, to fete the arrival of the Resort 2012 collection in stores, Sevigny took Opening Ceremony cameras inside her closet as part of the retailer's "At Home With" series.
The actress admits she has a tendency to avoid throwing things away: "I keep everything," she admits. "I'm kind of a pack rat, hoarder-type." In addition to highlights from her Opening Ceremony collection, there are quite a few surprises on the racks in her closet, from an old pink Comme des Garcons jacket that she admits she only wore once to sketches of dresses she wore by Alber Elbaz.
The video's true highlight, however, is the sight of Sevigny walking up a narrow staircase lined with countless shoe boxes and plastic bins to retrieve a photograph of herself backstage at a Miu Miu show with Kate Moss. "There is a system," she insists. "It might not look like it, but there is!"
At Home with Chloë Sevigny: Part 1 from Opening Ceremony on Vimeo.