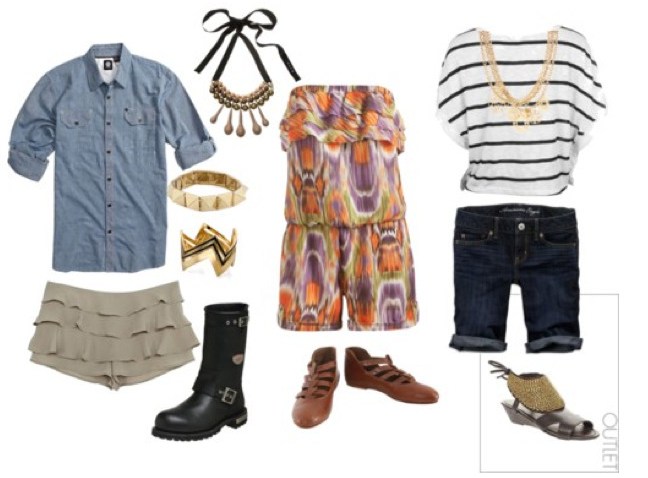 Just about any way you swing 'em, shorts serve as the perfect summer show uniform. No matter what your style, there's a way to make them work for a hot night at Madison Square Garden.
Country Girl, Biker Chick
This mash-up of silky ruffled tap pants with a super-soft men's chambray work shirt and steel-toe boots is perfect for tonight's show. Fashioned-up with a eye-catching Marni necklace and chunky bangles, it's an ensemble as eclectic and spectacular as the band itself.
Bohemian Vixen
For an outfit that's essentially pull-on-and-go, an ikat romper and punchy Rachel Comey bootie-sandals have a lot going on. If you're the girl who breezily drifts from one summer show to the next with a smile, this is your go-to number.
Tomboy Sophisticate
Dungaree Bermudas, beaded flats and a striped crop top paired with a pile of glamorous vintage chains exudes an effortless, cool vibe.
From left:
Comely Country Biker Chick, Clockwise from Top Left:
Element Barton Chambray Shirt at Swell.com ($20)
Marni Rib Necklace ($670)
Noir Jewelry Pyramid Stud Bracelet ($64)
House of Harlow 1960 Three Stack Bangles ($138)
Red Wing Motorcycle 988 Steel Toe Engineer Boot ($161)
Kimchi Blue Ruffle Tap Short at Urban Outfitters ($25)
Bohemian Vixen
Arden B Ikat Tube Romper ($59)
Rachel Comey Twist Booties ($240)
Tomboy Sophisticate
Metro Park USA Striped Cropped Tee ($26)
Vintage Givenchy Multi-Strand Heavy Pendant Necklace ($926)
AE Skinny Bermuda Shorts ($35)
Park Lane Flat Tie-Back Sandal ($59)