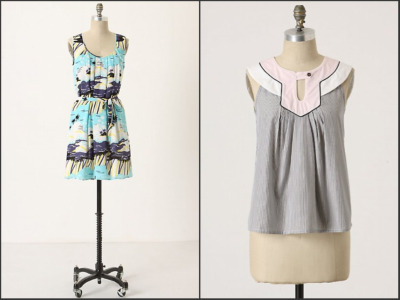 Label Eley Kishimoto is bringing its quaintly striking touch to the capsule collection EK Jam Factory for Anthropologie.
The textile masters Mark Eley and Wakako Kishimoto produced prints like a punchy red-and-navy bird print, hot-weather flowers and oceanic paintstrokes in gamine silhouettes, along with muted combinations of gray and pink and powder blue and navy.
Anthropologie is thusly joining the illustrious ranks of other designers and fashion houses for whom Eley Kishimoto has created textiles, from Yves Saint Laurent, Marc Jacobs, and Alexander McQueen to Converse, Linda Farrow, and Uniqlo with this sweet batch of summer cotton tops and dresses.
The best part is, at $128-$228, the prices on the Anthropologie line are as easy and breezy as the styles themselves.