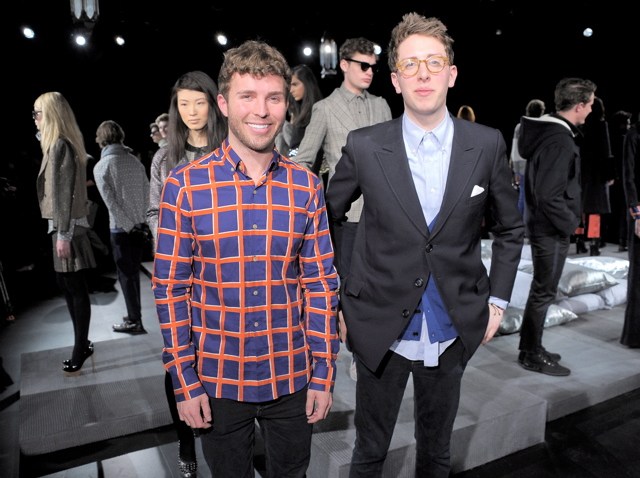 This past February,
Timo Weiland
and partner Alan Eckstein officially graduated from underground indie favorites to New York fashion darlings.
Their super-successful fall 2011 collection -- inspired by a fantastical trip taken by Gloria Vanderbilt and
Keith Richards
-- has helped the brand establish itself as a forward-thinking force, with bold original prints, hand-made embellishments and some experimental silhouettes. With their increased retail presence -- along with ubiquity on the NYC music scene (yes, the boys moonlight as DJs) -- it seems we'll be calling for all-things Weiland in seasons to come.
It seems like we're seeing Timo pieces everywhere we look! Do you think the most recent collection was also one of the best received?
Yes, we are excited to say that it was the best received, and yet it took some of our existing retailers a moment to digest and love the new, more advanced direction we took for Fall.
We hear fall was inspired by an imaginary trip with Gloria Vanderbilt and Keith Richards: Can you explain how that inspiration played out in the collection?
The prints were inspired by a snowy Himalayan landscape that we envisioned as the backdrop for Gloria's adventures through India in the 1960s intermittently documented by Conde Nast and
TIME
.
What do you think of the summer's "print-mixing" trend. Do you think it's strictly girls-only or should guys get into the look?
Obsessed with all methods of mixing prints, as seen in our collections. Men should be more open to this concept because it is a really fun way to wear clothes, and the possibilities of combinations are endless. Printed cotton shirting, twill bottom-weights, high-tech outerwear fabrics, and tweeds are all fantastic when juxtaposed with a purpose.
Any hints you can offer about what we might look forward to for Spring 2012?
Hobbies of ours incorporated into the collection, loosely but not literally.
What's on your summer reading list:
"Sometimes a Great Notion" by Kesey. "Life" by Keith Richards. "The Fountainhead" by Ayn Rand. "The Beautiful Fall" by Alicia Drake.
The song you're playing on "repeat" this summer:
"Des Ronds Dans L'eau" by Francoise Hardy, "Banana Ripple" by Junior Boy, "Kisses" by Kisses.