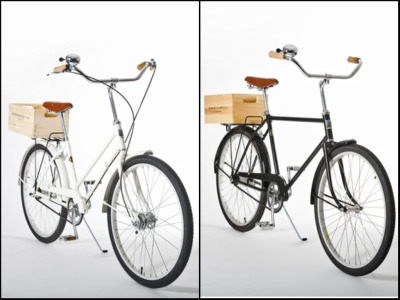 Bikes are the new black lately - especially in Brooklyn - and Brooklyn Industries has added two Bowery Lane bicycle models to its selection of biking merch.
The Soho outpost of Brooklyn Industries (and the website, with free shipping) now carries the Broncks Black Single Speed for $645 and the vintage-inspired Breukelen White 3-Speed for $745, both by Bowery Lane, both crafted from American steel. Other nifty features include sustainable cork handlebars, leather seats and handcrafted wooden crates for the back.
So now, there's finally an authentic vehicle on which to wear any of Brooklyn Industries' charming bike love shirts.