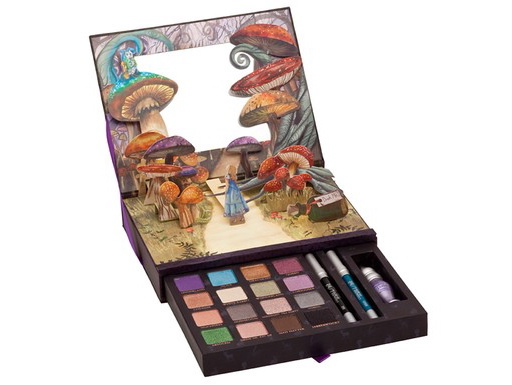 OPI Pruducts and Urban Decay Cosmetics are the latest to jump on an 'Alice in Wonderland' collabo-bandwagon that's surely met its seating capacity. Soon, Tim Burton fans will be able to sport 'Alice'-inspired smokey eyes with their matching jewelry from Tom Binns, or Zac Posen x Pamela Love.
Disney approached the two SoCal-based beauty brands a year ago about adapting Burton's vision to makeup and nail polish. As Urban Decay's creative director, Wende Zomnir, told WWD, it was a match made in advertising heaven: "Burton is dark and edgy, yet everything he does is really beautiful at the same time. I felt it was a perfect match for Urban Decay to do a palette based on his vision." The $52 keepsake palette opens to reveal a range of 16 'Wonderland'-related colors, and a pop-up scene featuring an illustrated Alice standing in the mushroom forest.
Alice afficinoados can complete their look with a bottle of OPI's themed nail lacquers: We're digging the bright crimson "Off with her Red" and shimmery "Thanks so Muchness."
Urban Decay's limited edition 'Alice in Wonderland' palette will be avaiable at Sephora, Ulta and Macys. OPI polishes available at Ulta, J.C. Penney, Dillard's, Pure Beauty, BeautyFirst, Chatters, Regis, Trade Secret and Beauty Brands.