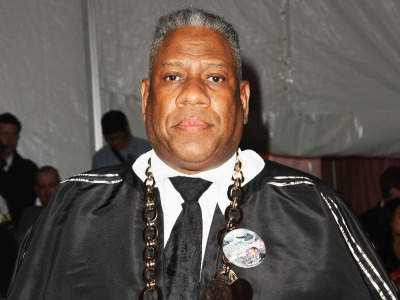 André Leon Talley has made up his mind after eight years: the Vogue editor-at-large has accepted Tyra Banks' invitation to join the America's Next Top Model judges panel, armed with Anna Wintour's blessing and 13 custom-made Chado Ralph Rucci capes.
The larger-than-life fashion maven has signed on for three "cycles" on the show, convinced by Banks' success over the past several years. Banks tapped Talley to educate viewers and elevate the reality competition to the realm of high fashion. And while Talley wanted his samurai-inspired TV wardrobe to pop, Banks will tone down her look in the editor's honor. Needless to say, we can't help but be intrigued.
Talley has already been savvy about his television debut, adopting the catchphrase, "drecktitude", a hybrid of "dreck" and "quackitude", which he adopted from none other than Rachel Maddow. We're guessing that's just a small taste of the sound bite gems that will come flying out of that flamboyant mouth of his over the course of the season.
ANTM has been notoriously churning out winners who, after the prize Cover Girl contract and Seventeen cover, seem to disappear from the mainstream and high fashion modeling worlds (unlike, say the Project Runway designers and Top Chefs of the world). Talley, however, truly believes the winner (who's been chosen) has a shot at Vogue, so we'll have to see if he can take the show in that new direction.