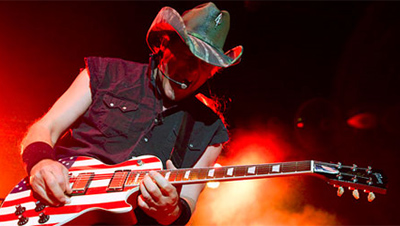 Ted Nugent is rock 'n roll.
The 62-year-old has sold more than 30 million records and played more than 6,000 concerts. He's also one of the more outspoken conservative voices in pop culture (you don't see Springsteen playing at the Alamo for a special hosted by Glenn Beck) and an avid gun enthusiast and hunter. What could be crazier than the premise of his 2003 reality show "Surviving Nugent," where he put the likes of Tila Tequila to the test with feats such as skinning a boar?
In an incredible twist no-one could have seen coming, Brooklyn restaurateur Tedd Mann (Bar 4, Public Assembly and others) discovered last year that Nugent is his biological father.
Continuing this study in contrasts, Nugent will be at the Iridium jazz club next week sitting in with the legendary Les Paul Trio during their since-forever Monday night residency. Following in the footsteps of Jeff Beck and Steve Miller, Nugent will wrap each set backed by an electric bass and drums to perform some of his biggest hits, all in a performance honoring the late Paul.
We sent over the Q and held our breath. The Nuge, as always, did not disappoint.
Name: Ted Nugent
Age: 62
Lives in: Texas
Occupation: Gung-Ho American

First real job?
At the age of 12, delivering the Detroit News and The Shopping News to about 100 customers on my Huffy StumpJumper cool-ass bike. I was fast, focused, conscientious and efficient as all hell.

First record you ever bought?
WHAM! by Lonnie Mack.

Your first NYC gig: Discuss.
Unganos [210 West 70th St.], around 1968. The Amboy Dukes' tightness and insane high energy scared New Yorkers for the most part. My band was so good it was scary.

Fill in the blank: If I ever get arrested, it'll be for:
my passion and logic being misunderstood in a world of politically-correct mindlessness.

What time do you wake up?
During the 8-month hunting season, 5 a.m. During rock 'n roll season, noon.

Top three songs in your iPod rotation?
Don't own such a device. But my trucks are full of James Brown, Wilson Pickett, Sam & Dave, early Stones, Yardbirds, Mitch Ryder & The Detroit Wheels' Greatest Hits, ZZ Top's Rio Grande Mud and other soulful music.

What do you splurge on?
Private jets.

Most memorable thing you've ever read about yourself on the internet?
There's so much hysterically funny stuff. I couldn't possibly be as adorable as the goofballs make me out to be! I'm overwhelmed with joy that so many idiots have gotten it so wrong, so often. God truly loves me.

To when do you point your time machine?
Right here and now. This is more fun than shooting Santa Anna's stooges at the Alamo.

Complete this sentence: In a previous life, I was Lewis & Clark's meatboy.

Best meal you've ever had in NYC?
Good Lord, there are SO many! Never had a mediocre meal in the Big Apple, but I have to give a nod to my son Fleetwood's incredible Cebu Bistro in Brooklyn. The Nugents know their chow!

What's your drink?
Vernor's ginger ale.

First childhood memory?
Hunting trips up North with our bows and arrows. Incredible joy!

What's your pre-show ritual?
A killer dump that nearly alters the Earth's axis. Cleanses the soul.

Most treasured possession?
My health and my family.

What's your greatest skill in the kitchen?
Providing pure, freshly-killed, organic dead stuff and unlimited creativity. And those little spontaneous pirouettes in my mini-skirt around the grill.

Your favorite thing about yourself?
I am the funniest man on Earth.

Who are your heroes?
Chesty Puller [the most decorated U.S. Marine in history], [bow manufacturer] Fred Bear, [Navy SEAL] Marcus Luttrell, Patton.

What scares you?
Nothing.

Best piece of advice you've ever received?
Be the best that you can be, no matter what.

What's the loftiest goal you've yet to accomplish?
Ridding the U.S. government of the runaway corrupt, power-abusing bureaucrats who wipe their a-- with the Constitution. It's a target-rich environment.

Tweet your obit (140 characters or less):
Ted Nugent created a frenzy of positive American activism for the last 60 years of his amazing life scaring liberals.

Les Paul Guitar Tribute Mondays featuring Ted Nugent with The Les Paul Trio at Iridium, Monday May 16 at 8 and 10PM. Tickets $45, available here.