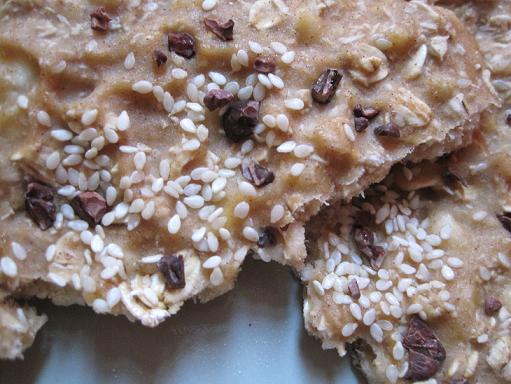 Normal 0 From Vegeneration blogger Diana, "a 19-year-old college student, vegeterian dabbling in veganism, and oatmeal and hummus lover":
No-Bake 5-Ingredient Workout Cookie
This is the perfect fuel for gym-goers who rush to the gym in the morning and try to squeeze in a workout before class or work. Right out of your freezer, this cookie is refreshing, chewy, and sweet, with subtle undertones of peanut butter.

Makes 1 cookie.
Ingredients
1 very ripe medium banana
1/4 cup rolled oats
1 Tb peanut flour (I use TJ's brand. If you don't have this ready, you can substitute crushed almonds, pecans, or walnuts.)
1 tsp sesame seeds (optional; have fun with your own mix-ins)
1/4 tsp cinnamon
pinch of salt
sesame seeds for garnish (optional; have fun with your own toppings)
Directions
1. Mash the banana well.
2. Stir in the rolled oats, peanut flour, sesame seeds (or your own mix-ins), cinnamon, and salt.
3. Scoop mixture onto a small plate. Flatten into a round "cookie" shape, somewhere around 6 inches in diameter. Sprinkle sesame seeds (or your choice of toppings) on top; press down slightly so they stick to the cookie.
4. Freeze overnight and enjoy in the morning before a workout.
** For the "remix," add sesame seeds and cacao nibs on top.
Thanks, Diana!
This is one of several recipes by healthy-eats bloggers in New York City to be featured here in an ongoing series. Want to pitch a recipe of your own? Email us.