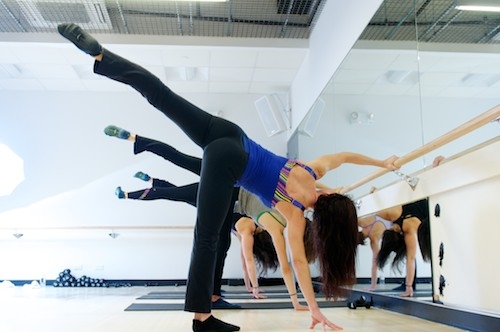 If our Dori's Quest series wasn't enough to convince you, consider the New York Times piece Thursday spotlighting the booming popularity of barre classes in New York City, attributable in part to the movie "Black Swan."
"Women have long coveted sinewy arms, high and tight derrieres, lean legs and a regal posture," the Times article says. "Now, in search of this shape, many of them are ditching yoga and Pilates and lining up at the ballet barre."
The paper counts at least 10 ballet-based workout studios in New York City, and observes chain gyms incorporating barre-centered classes to their schedule. (Here on Go Healthy New York, Dori has reviewed workouts at Barre 3, Core Fusion, Pure Yoga, Bari Studio, and FlyWheel.)
FlyWheel's FlyBarre instructor Mahri Rehlin told the Times, "Barre methods were popular before 'Black Swan.' But then they were touted as something that made you look like a dancer, and that's made them even more popular."
The classes are focused on four body parts -- arms, abdomen, gluteal muscles and thighs -- according to the Times, with highly targeted, small movements designed to tone muscles without adding mass.
And while they're not all-out sweat sessions, no one interviewed for the Times article would call the classes easy. In fact, professional dancers admitted some of the exercises were so intense they often walked out with their muscles shaking.
From more on the history and evolution of barre workouts in New York City, read "At Ballet Workouts, Getting That Dancer Physique," visit nytimes.com.