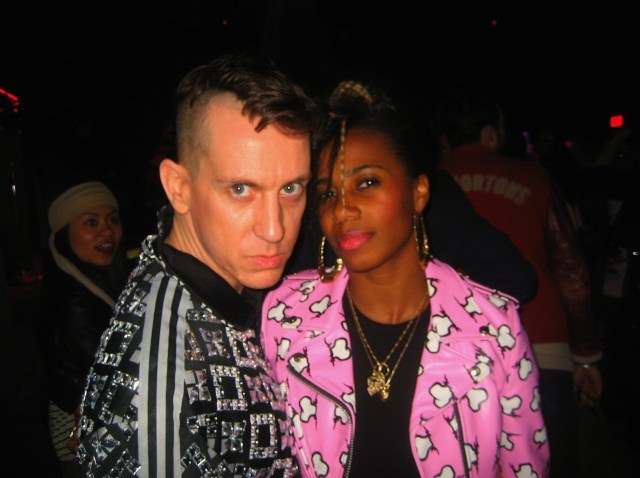 If you ever find yourself tailing daring fashion designer Jeremy Scott through the bowels of the Hudson Hotel's cavernous club, Good Units, you'd better hope he's wearing a crystal-encrusted track suit from his fall 2010 Adidas collection.
Within minutes of arriving in the upper, VIP lounge of his fashion week after-party at Good Units last night, the mohawked man disappeared into the crowd, beelining it through the packed dance floor below in order to see friend Santigold take the main stage for a quick performance.

"Absolutely nothing was going to get in my way -- I was like a heat seeking missile!" the energetic, L.A.-based designer joked backstage Wednesday night. "I love her."

While guests like Michael Stipe, Terry Richardson and Peaches Geldorf mingled and photographers swarmed, the two multi-talented artists hugged, then plopped down on one of the couches and began gabbing like carefree BFFs, seemingly unaware of the surrounding hoopla.

But how -- given the frenetic pace of celebrity's lives -- had such a close bond congealed? "She actually called me up and said, 'I love your clothes, I want to meet you,' and then we just became friends" Scott said. "It was the biggest compliment. She is just so sweet and gentle and normal, and I think I am kind of normal."

Respect played a factor as well (Scott had handpicked Santigold to perform at his party). "Of course I love her music, I love her voice. You know you have an amazing voice when Bjork talks about it. And Bjork is one of my oldest friends, and she reveres Santi's voice."

Iceland's otherworldly pop princess isn't the only fan. Since breaking onto the music scene in the Spring of 2008 with her genre-defying self-titled debut, Santigold --a former A&R rep at Epic Records -- has toured with the likes of M.I.A., Coldplay and the Beastie Boys. And with rumors of big-name collaborations in the works, you have to wonder, where does she find the strength to do it all? High altitude training might be the secret.

"I just hiked Kilimanjaro for Summit on the Summit, an awareness for clean water. I trained for about a month and a half. I was probably the least in shape on the trip, but I made it to the top -- 19,340 feet!" she said.