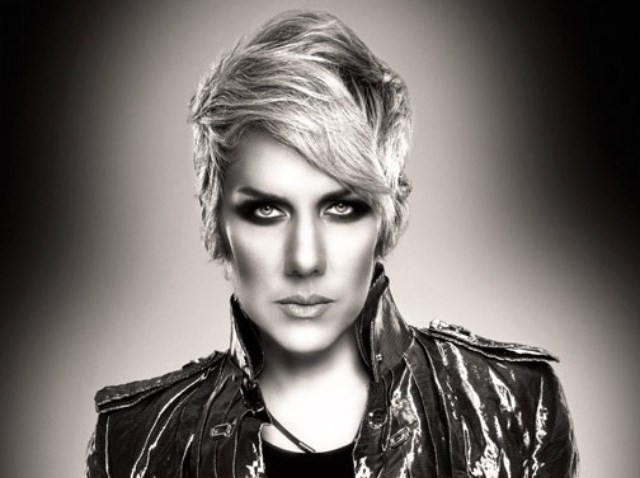 In addition to being the gender-bending lead singer of the Toilet Boys, Guy Furrow -- a.k.a Miss Guy -- has also been one of the city's favorite genre-hopping DJs, holding residencies at venues like Don Hills (where he helmed the seminal Squeezebox party) and clubs like the Boom Boom Room, where he currently can be spotted spinning on Friday nights. Nightside caught up with the flamboyant frontman this weekend to talk about the Toilet Boys' impending reunion, his request policy, Andre Balazs' favorite tunes and what it's like to be BFFs with Debbie Harry.
What bands did you listen to growing up? I grew up in a musical family. My dad had a pretty successful band that toured with Ike and Tina Turner and The Byrds. My older brothers were in a band that was one of the more popular local bands. So I was always around music and was totally obsessed with it. I loved Elton John, Cher, Bowie, KISS, Blondie, The Ramones, Devo, The B-52's, Bow Wow Wow and Culture Club. Anything visual got my attention. Boy George was an enormous inspiration to me. He still is.
When you guys formed the Toilet Boys, did you have a fully formed idea of what the band was going to be performance-wise? The only thing I knew from the beginning was how I wanted to present myself as the frontman. After a few months, Sean started to incorporate the pyro. It was a lot of fun and our audience was really into it. It was never really planned out, it just happened naturally.
What prompted the Toilet Boys upcoming reunion? We've been getting requests to do things for the last six or seven years, but we finally got an offer we simply couldn't refuse. Great money playing a big festival in Spain with KISS and other cool bands. KISS was always on our list of bands we wanted to play with. We've been lucky enough to play with most of our favorites. And we always liked playing in Spain, so it was perfect. We're all very excited. Bob Dylan was just added to the bill. It's crazy. We decided to do a New York show as a warm up for the gig in Spain. So we're doing June 16 in New York at Santo's Party House then go to play the festival after that.
What can we expect from Toilet Boys 2.0? High-energy rock'n roll, hard candy pop! Our shows were always lots of fun, and I expect these shows to be the most fun yet. And it's going to be in 3D!
How'd you meet Debbie Harry? Does she ever drop by to hear you DJ? We live in the same building! And we met through our mutual friend, Michael Schmidt, who is a brilliant designer. Yeah, she hangs out a lot whenever I DJ. She's always been very supportive of whatever I'm doing. She's a doll.
How's your one-time collaborator Boy George doing? Still keep in touch?
 George is doing great. We keep in constant touch. I adore him. Can't wait til our song is out, it's such a pretty song. And I think it has major potential to be a big hit.
You're both a frontman and a DJ -- what's the difference between the two in terms of mentality and approach? Well, for me, the two are totally different. When I'm on stage with my band, I'm in performance mode and feel like a rock 'n roll animal, very uninhibited. When I'm DJing, I'm in DJ mode and I'm just focusing on the music I'm playing and the crowd, but I don't feel like I need to be on because it's about the music. I'm pretty shy and that's more evident when I'm DJing than when I'm performing. I don't consider DJing performance at all, though I know it is for some people. I like to keep the two separate. And I prefer playing with my band way more than DJing.
You're one of the first androgynous DJs -- what were peoples' initial reactions to your look? People responded positively right from the beginning. I never wanted to be a DJ, it just happened by accident because somebody needed a last-minute DJ to fill in for someone and they called me. To be honest, I didn't want to do it, but my friend convinced me I should. I'm glad I did it because they loved me, fired the other DJ and had me take over. I've been DJing ever since. But I never gave the androgynous part any thought, I was just dressing the way I liked to dress.
What's one song you like dropping when energy levels are high during a set? It depends, sometimes whatever the big hit is at the moment. "Crazy In Love" by Beyonce was always fun to throw on, and I still like to play that. Never got sick of it like some of the other big summer hits. "Heart of Glass" by Blondie always gets the crowd going, it doesn't matter the age group, black or white, straight or gay, everybody loves that song. I like to play Madonna. I love Lady Gaga, Missy Elliott, Diana Ross, Grace Jones and The Gossip. I like lots of different genres of music and can go all over the place if the crowd will let me. Sometimes they do and sometimes they don't. I am still loving "Empire State of Mind" by Jay Z! It's all about that Alicia Keys chorus. And "I Gotta Feeling" by Black Eyed Peas is a great song! I want to cover it with the Toilet Boys. I've been playing some early 90s dance music for the last year or two, which is sounding really good to me.
Even if making a request is a serious faux pas, what's one record you can't resist playing, even if it was requested? "Sweet Child of Mine" by Guns 'n Roses or "Groove Is In The Heart" by Deee-Lite. Deee-Lite is one of my all time favorite bands. Lady Kier is brilliant. I'll play almost anything but I have to like it. I won't play a mega-hit if I wouldn't listen to it on my iPod unless I'm doing a big paying corporate gig and whoever hired me asked for it. I had to play "I Will Survive" once and I was really embarrassed. I think I ducked behind the booth! It's a great song but does anyone ever need to hear it again?
You started DJing at Don Hills and now you're at the Boom Boom Room. Do you change the type of sets you play according to the venue? Yes, absolutely! I like to mix it up whenever I have the freedom to do so, but at Don Hill's, I played mostly rock and punk. SqueezeBox was incredible though because I could get really weird with the music. I play more dancey stuff at Boom Boom Room, which I really enjoy. I've been bored with rock for years. People think of me more as a rock DJ, but I love dance music. Boom Boom is really fun for me because I get to play a lot of dance music and even a little late 80s house.
How many days a week do you DJ at the Boom Boom Room? Any crazy stories from some of the more exclusive nights there? I'm usually there on Friday nights. It's a blast! Everybody is really cool and of course the room is absolutely gorgeous! There are always lots of stars there and people are very casual about it, which is why I think celebs feel comfortable there. I don't think I should mention any names though. But I will say that there are always some crazy shenanigans going on there. People let loose and have fun. It's very old New York nightlife, which I love to see.
Has Andre Balazs ever dropped by while you're DJing? What type of music is he fond of? Yeah, maybe a few times. He likes dance music.
What's been your favorite era of New York nightlife? What do you think of the one we're currently in and any predictions as to where it's going? I love the days of CBGB's and Max's Kansas City. I wish I were older so I could have been there for that. My favorite years since I've been here were of course the SqueezeBox years! It was outrageous fun every Friday night for seven years! And all the people from the CB's and Max's days loved it. They were there all the time and that was a thrill for us not to mention a huge compliment. That meant more to us than the money we were making. Well, almost.
Finally, given all the restrictions to partying these days, do you think private parties will be an increasingly popular trend? I've always liked private parties but honestly, I can't say where nightlife is going. I am an optimistic person and would like to think that someone will come along who is bored with the state of things and start something that will be magical. That's what we did with SqueezeBox. We were just bored with what was happening and wanted our own party that turned us on and it just happened to turn on all of New York and a lot of people all around the world. So I'm sure something will rise up and turn us on again!