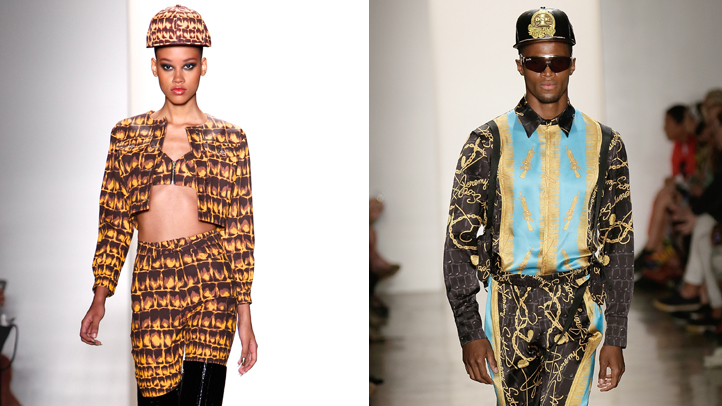 You can always count on a Jeremy Scott show to turn Milk Studios into a complete circus.
Most fashiongoers are hoping for a front row seat in order to snag one of his coveted Longchamp swag bags—they always trump the cute grocery store totes scored at other Fashion Week events. This season's bag was a gold equestrian-print number, and it was a sneak preview to where Scott—who took his final walk down the runway in cornrows and a custom-made black and gold Adidas track suit—was going with this collection.
Black and gold was the main palette, and '90s hip-hop culture was the theme. Model after model strutted in urban-inspired looks that were a throwback to the old Tommy Hilfiger days when girls wore baggy jeans with bra tops and Clark's Wallabees. Scott's bra tops were gold crocodile stressed leather. The pants were gem-encrusted and sexy. And the shoes were edgy over-the-knee patent leather stilettos.
Even the guys were blinged out in basketball shorts and jerseys jazzed up with sparkle and metallics. The looks were topped off, literally, with New Era fitted caps that some mods turned to the back halfway down the runway. Scott also paid homage to old-school Versace with his brilliant Jeremy Scott branded equestrian print, and did a sort of East meets West with his Keffiyeh pleated skirts and wraps for men.
And perhaps it was the nod to hip-hop culture, or simply a devotion to diversity, but he used almost all models of color, majority being African American. Even the soundtrack of Missy Elliot's "Get Your Freak On," Jay-Z's "Punjabi Emcee," and "Khosara" (the original was created by Egyptian composer Baligh Hamdi and was sampled by rap producer Timbaland on Jay-Z's "Big Pimpin'") felt like a marriage of urban hip-hop culture with modern Middle Eastern arts.