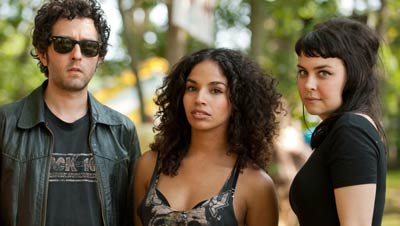 Self-dubbed "beat punk" trio the Ettes have opened for the likes of Kings of Leon and the Black Keys, but their current opening stint may be the most fitting pairing yet: Saturday's sold-out Bowery Ballroom show marks the second of eight bills with Irish neo-rockabilly powerhouse Imelda May. [UPDATE: The Ettes will not be performing with Imelda May at this time.]
All the better for frontwoman Coco Hames, Jem Cohen and Poni Silver to showcase the 1960s girl-group-via-garage-rock vibe they're known for, displayed to great effect on their latest album, Wicked Will. Check out "Don't Bring Me Down," one of our favorites, and "Excuse," below.
In anticipation of the show — which we imagine will cause a run on black eyeliner for lower Manhattan — Coco and Jem shared some of their all-time favorite tunes, in their own words.
COCO
Roy Orbison, "Leah" – Because the story is so weird and trippy, it sounds like an Antonioni script. Plus it scares Jem, bonus!

Patsy Cline, "Strange" – This is one of my favorite of her songs to sing, or attempt to sing anyway. Her voice haunts me in the best way.

The Troggs, "With a Girl Like You" – It has just the right combination of menace, danceability, and humor – that's what I like in my men!
Jay Reatard, "Fading All Away"-- It's a powerful example of how much we lost when we lost Jay. I rock out to this song every couple of days on repeat, yo.
JEM
The Byrds, "I'll Feel a Whole Lot Better" – This song just makes me so happy, even though the lyrics are quite mean and sad. That's the power of Byrds harmonies, I guess. So uplifting.
The Rolling Stones, "She Smiled Sweetly" – I just love this song so much. It's a great last-minute song to have as your first dance at your wedding.
Burr Bailey, "San Francisco Bay"
-- This is another weird tune in the Joe Meek catalog. I really like the crazy bass and drum sound. So much so that I made it my ringtone. Creepiest ringtone ever.
The Beatles, "Cry Baby Cry" – This song, along with the Beatles' "Sexy Sadie," is -- to me -- the start of glam rock. What did the Beatles not invent in rock 'n roll music though? All you Beatle haters can take a hike. You're just jealous.