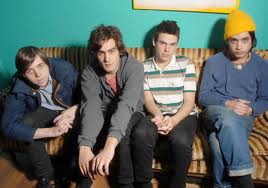 Austin garage dudes The Strange Boys recently released their third album Live Music. It is not a live album. Strange, right? It is, however, a solid collection of Dylan and Hank-like tear-in-the-beer ballads, such as the aptly named "Saddest," and it also includes "My Life Beats Me," which is one of the best Walkmen songs that The Walkmen didn't write.
You can check out the single "Me And You" here.
The Boys are celebrating Live with a few New York appearances; Nov. 18 at Mercury Lounge and Nov. 19 at Glasslands. However, if you're strapped for cash but still curious, the Boys have announced that they will be playing an in-store performance at Generation Records on Nov. 20.

The show starts at 4pm, and is free. It will also be very crowded, so if you'd like to guarantee entry, buy a copy of Live Music at Generation to get a VIP pass guaranteeing entry as well as a meet & greet with the band. Perhaps you can use that opportunity to upbraid them concerning their confusing album title?