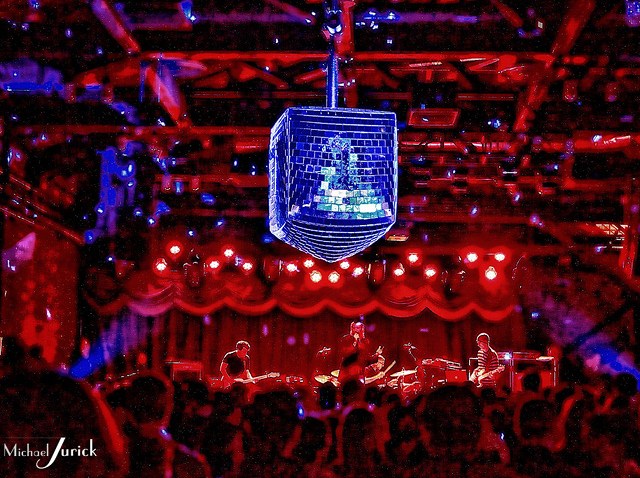 Mother Nature is beginning to turn her back on us with 5 p.m. sunsets and unfavorable temperatures. A barrage of emails promoting holiday sales and parties is clogging our inboxes. You can't walk through Soho without a lead blocker clearing a path. This can only mean one thing; the holiday season is in full swing whether we like it or not.

One final indication of the joyful (read: stressful) time of year kicked off last night when Matisyahu, the Hasidic Jewish reggae artist from White Plains, celebrated the first evening of his fifth annual Festival of Light tour with a sold out performance at everyone's favorite indoor playground - Brooklyn Bowl. Matisyahu's famous Disco Dreidil entranced the room while he pumped up the holiday cheer with his own brand of socially conscious, religious influenced music that touches numerous genres like dub, reggae, hip hop and jam.

The Festival of Light continues this evening when the Dreidil and the band move their show a few blocks south to the Music Hall of Williamsburg where Tally Hall will support the show. The tour takes a short break from Brooklyn for a show at Northern Lights in Clifton Park, NY then returns for two more performances at the Music Hall this Saturday and Sunday. The Festival of Light continues through Boston, Baltimore and Philadelphia before concluding at the newly renovated State Theatre in Portland, ME.

The tour isn't the only thing Matisyahu is doing to keep everyone in the holiday mood. He recently released a video for the uncharacteristically poppy track "Miracle" which is a song celebrating Hanukkah with some pretty interesting imagery including a caged Matis in a Santa suit. See for yourself:
While I've yet to fully dissect and understand the video, one thing remains clear – Matisyahu is making a move to return to the spotlight that shined so brightly back in 2006. Between this bouncy pop song, a dedicated tour ethic and the upcoming release of Live at Stubb's 2, there is nothing standing in his way.