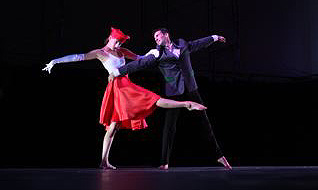 The New Yorker calls Fräulein Maria -- which wraps its short run with shows this Thursday, Friday, and Saturday as part of the '08 Dancemopolitan Holiday Series at Joe's Pub -- "a parody of, and a love letter to, The Sound of Music" -- and we can't think of a better way to put it.
Danceman Doug Elkins (who's alternately been called a "plunderer" and a "new-age choreographer," and you know when anyone starts talking about plundering, it's got to be good) brings the world of Maria, her wee Austrian charges, and those naughty nuns to life in a sort of neo-vaudevillian-meets-modern-dance spectacular. But this ain't your mama's Rodgers and Hammerstein. There's vogueing, hoodies, and a large man in a pink dress playing Liesl, and if this all sounds less like Real Art and more like burlesque night at Fortune Cookie Cabaret, banish the thought: Critics have been falling over themselves to such an extent that, as of this writing, two of the last four shows are sold out.
Fraulein Maria at Joe's Pub; 12/11, 12/12 at 7:30PM, 12/13 at 1:30PM and 7:30PM; visit www.joespub.com for tickets.
Copyright FREEL - NBC Local Media