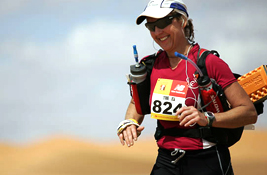 By Ben Waldman
"I want to work out, but work is killing me."
I know I've used this excuse, and I'm guessing plenty of you have too. Early mornings. Late nights. Company happy hours. Let's be honest – work can be a lot of, well, work. It can be physically exhausting and mentally draining. It's easy to use work as an excuse to avoid working out and spend a little extra time on the couch.

Luckily, inspiration is all around us. While we are contemplating reasons we should not work out, there's someone else at the office contemplating how to squeeze in a workout. Sometimes these people don't contemplate at all – there's no time. As this inspiring poster I found explains, they just go.

Maybe it's lunchtime yoga. Maybe it's a bike ride at sunrise. Maybe it's a late night at 24 Hour Fitness. These people prove that there's always time if you make the commitment.

Today's featured athlete is Lynne, a nurse in New York City emergency room. Whereas most jobs treat every project as a matter of life-or-death, she literally faces such situations in the ER every day. Hospitals have notoriously busy hours and the mental and emotional toll must be incredible, yet Lynne is out there every day, making it happen, and inspiring us to get out there too.
---
Lynne H.
46, Upper East Side, New York City
Trauma Nurse

What type of fitness are you into?
Running, any distance. I've run over 40 marathons, several ultra-marathons including races over 100 miles, and countless shorter races. I compete in triathlons and am an 8-time Ironman. Cycling. Weight Training. And I ride horses – I used to compete when I was younger and plan on starting again this year.

How do you keep all that training fun?
By changing up the routine -- I have a jar filled with 10 different workouts I designed and I pull one out randomly every day. I never know which one I'll do -- be it swim, bike, run, gym, cardio, weights, speed workout, running long, spin, hill workout. The only time I'll deviate from the card is if it's raining – then I don't do the bike workout outside.

How does work affect your training schedule?
I often say it's easier to run a 100-mile ultra than work a 12-hour shift in the ER. I'm completely exhausted and drained after a day with so many people demanding time and treatment.

What gets you out the door to train on a crappy day?
Knowing that if I don't, the race will hurt more.

What are some of the benefits of living so actively?
I love being active and haven't stopped since I was 5. I love training and the feeling I get from a great workout. I've traveled around the world because of these athletic events and have had the happiest times in my life. The people I've met – I have friends now on every continent.

What advice do you have to help people get started and stay on track?
There will always be setbacks, especially when you are injured or when your no longer having fun, or even when your race times start to get slower because of age. You have to remember that what you do now by keeping your body healthy will be reflected later when you are older. I see so many unhealthy 80- and 90 year-olds everyday. And then I see extremely healthy 90 year-olds – nearly every one of these healthy patients has led an active lifestyle since their younger days, which is why I want to keep going with my own active lifestyle.
---
It's never too late to form new habits – and as Lynne has witnessed, starting a healthier routine now can lead to benefits later. We've all seen the articles about exercise lowering your risk of every disease imaginable, but what about the stress of trying to squeeze yet another thing into that busy schedule? As any athlete will tell you, working out is the greatest stress reliever in the world. And of course, there are plenty of articles out there about that too, so no using that as an excuse… Now get out there!

More "Extraordinary Motivation" Profiles


Ben Waldman is a writer, advertising art director, social media consultant and marathoner. Born in Queens and raised in NJ, Ben now lives in Manhattan, and can be seen almost daily running along the Central Park Loop, along the rivers and through the streets. He is tightly connected to the New York fitness community through his blog and on Twitter.