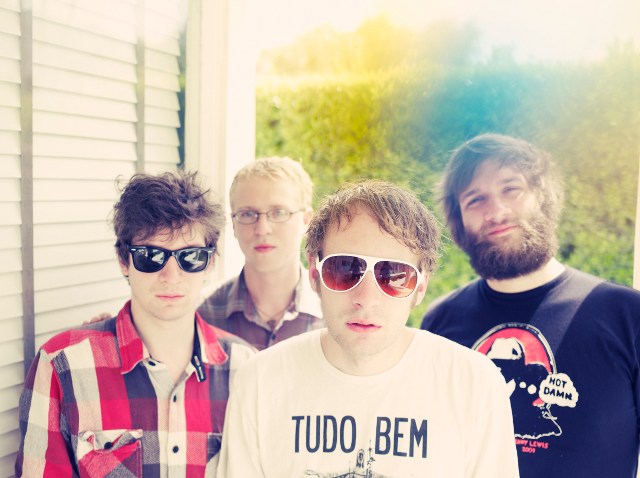 Deer Tick is one of those bands you can't help but love.

The Providence, RI four-piece has developed a cultish fan base thanks to their jamboree-like live shows and genuine knack for good old fashioned rock and roll. The band spent the better part of the last couple years on the road and left big impressions on crowds at this summer's Coachella and Lollapalooza festivals. Deer Tick is also NBC darlings as they were chosen by mega-fan and NBC news anchor Brian Williams for the inaugural episode of the aptly titled web series briTunes. They are one of the last groups of outlaws who play by their own rules, but their lack of regard for the status quo doesn't diminish their desire to be philanthropic.
Deer Tick has teamed up with Oxfam to auction off their 2001 GMC Savana School Bus in an effort to raise money and awareness for the flood victims in Pakistan. The bus, nicknamed "The Flagship" from their album Born on Flag Day (Partisan Records), served them well throughout their 2009 campaign, but now it's time to give back.

"The situation over there is so critical, but it seems that very few people are aware of it," said Deer Tick frontman John McCauley. "Maybe it's the stigma with that part of the world, I'm not sure. Either way, we feel really strongly that people should be more aware of the situation and hopefully we can help with that."

With nearly 17 million people being affected, the band will donate 75% of the final sale to Oxfam to help with relief efforts. Bob Ferguson, Senior Advisor of Music Outreach for Oxfam, had this to add, "At Oxfam America, we are lucky to have some of the world's most amazing artists support our mission and campaigns. We're very pleased that Deer Tick has joined that group in advocating on behalf of our flood relief and recovery efforts in Pakistan."
Take a moment to check your savings account and if you have the ability, place a bid on this touring relic and help some folks in need. Maybe Pete Shapiro, former owner of the Wetlands and current owner of Brooklyn Bowl, should purchase it in the hopes of landing a second vehicle in the Rock and Roll Hall of Fame. See Deer Tick on November 10 at Music Hall of Williamsburg and check out their briTunes segment below.