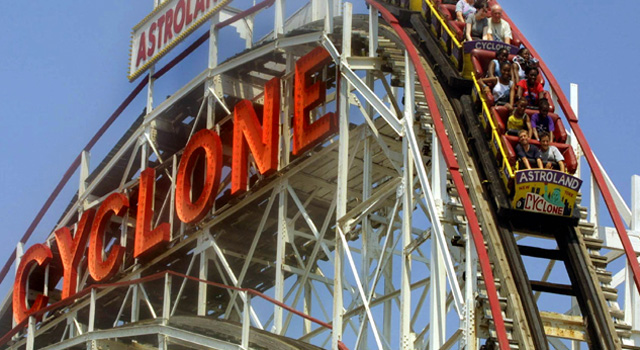 Coney Island's creaky Cyclone has closed for the season but there are still about a hundred good reasons to flock to the People's Playground this weekend. Better get there soon because Coney's best days won't return for a while.

The ninth annual Coney Island Film Festival kicks off tonight with a live sideshow, burlesque performances and the premiere of local historian and author Charlie Denson's documentary "The Prince of Mermaid Avenue."

One of 96 indie flicks to be screened through Sunday, the documentary centers on Jimmy Prince, the so-called last butcher of Coney Island, who closed up shop in 2008 after 60 years in business.

Coney's film festival -- like its annual Fourth of July hot-dog eating contest at Nathan's Famous, the Mermaid Parade in June, and Cyclone Minor League baseball games at Keyspan park -- are top attractions that celebrate the soul of the quintessential quirky New York neighborhood.

But it is fitting that a film about a man in transition should take top billing for Coney Island's last hurrah of the summer season.

The place has never been more in flux.

"Worst summer of 30 years," said Dick Zigun, founder of the Coney Island Circus Sideshow, a film festival sponsor and unofficial mayor to the neighborhood.

Zigun said the one-two punch of a global recession and unseasonably bad weather has had a significant impact on his business. But that doesn't tell the full story of Coney's crossroads, he said.

"When Astroland closed last year a lot of people who don't understand that there are many parts to Coney Island assumed that it was all shut down, that the Mermaid Parade ended and the Cyclone was sold to Japan -- none of which was true," he told NBCNewYork.com. "You need a large park to afford the advertising, fireworks, air shows and workers who'll shower and shave."

Mayor Bloomberg's controversial 10-year redevelopment plan, approved by the City Council in July, was supposed to end the confusion over Coney's future.

Instead, the plan's prophesied 27-acre, year-round amusement district won't begin to take shape until the city can follow through on its long-promised but as yet elusive deal with developer Joe Sitts to sell most or all of his property.

Other elements of Bloomberg's plan, which would facilitate building luxury high rise hotels and other housing, must be approved by the state Legislature -- no sure thing in dysfunctional Albany.

Denson, the filmmaker and author of "Coney Island Lost and Found," called the city's plan for Coney Island "pretty good hype."

He and other critics claim that what Mayor Bloomberg billed as revitalization for Coney Island's amusement district will turn out to be "just another housing project."

"I wrote the book on Coney Island development and hoped that the mistakes of the past wouldn't be repeated," Denson said. "But they went ahead and did the same thing. Complicated master plan where nothing will happen for ten to 15 years."

City spokesman David Lombino disputes that characterization. He said that at least some development will begin along the North and West side in the coming months and the city is "already working on plans for interim amusements for Coney Island for next summer."

The city also has contributed $41 million toward a new $100 million shark tank and other exhibits at the Coney Island Aquarium on the neighborhood's east side. The aquarium's managers hope to increase their shark count from eight to more than 30 -- and expand yearly attendance from 750,000 to million people, according to reports.

Zigun, Coney's unofficial mayor, said he thinks the city's plan has a lot of good in it but places like Nathan's Famous and the Shore Theater should be given landmark status to ensure their protection.

For now, vacant storefronts and giant "for rent" signs line prime real estate within steps of gorgeous coastline along one of America's great boardwalks.

Dianna Carlin, the owner of local boutique kitsch store Lola Staar and Dreamland roller rink said she fears the neighborhood will only get worse until it gets better. She said she has considered leaving the neighborhood since the city passed its rezoning plan.

"I think there are some very dark days ahead for Coney Island in the interim," she said.