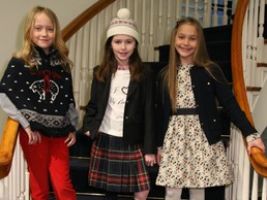 Brooks Brothers will soon extend its signature classic-and-sporty styling to girls come fall, with the launch of the brand's second guest designer-created collaboration, Fleece -- just in time for the back-to-school rush.
The first guest designer was Thom Browne back in 2007, who created the capsule Black Fleece collection for the brand. This new collection will be helmed by Nikki Kule, who already designs her own children's collection called Kule.
Fleece will run the gamut from everyday knits and shirts for $50 to $100 party dresses and near-$200 outerwear. All in all, it's a rather expensive collection for kids, but nothing compared to some of the other designer fare on the market. (Phillip Lim's children's collection, for example, has included some dresses for $295. Then again, his stuff is ridiculously cute.) The collection will, no doubt, come as a relief for all those Brooks Brothers shoppers who have quietly longed for something similar that their little gals could wear. As Brooks Brothers CEO Claudio Del Vecchio told WWD, "This is probably the most-requested product category we have."