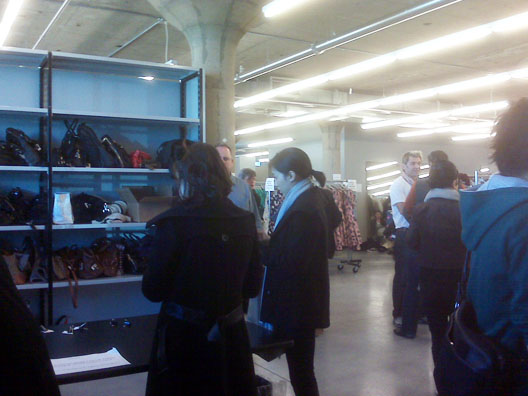 Today, with elbows sharpened, we face the intense dealhunt otherwise known as the Prada sale taking place through Friday at 609 W 51st Street. Prepare yourselves—it's going to be a wild ride.
After a cold two hour wait, we've finally made it inside the Prada sale. The selection is okay. Let's talk shoes, the cheapest thing here, first: we're seeing a lot of hot pink or coral platforms and only a few pairs of flats. Dresses, even half off, are all over $500. Stuff is disappearing really fast.
Some prices: A really cool pink Miu Miu blazer is $424, down from $695. Little floral cropped jackets are marked $549, down from $2,195. Beautiful ombre jackets are $760, down from $3,040 and matching skirts are $375, down from $1,470. There are also found a whole bunch of weirdly conservative black office-friendly skirts. Currently, there's a line for the fitting room. Really, that's to be expected.
· Epic Lineblog: Waiting on Prada [Racked]For more stories from Racked, go to racked.com.
Copyright RACKN