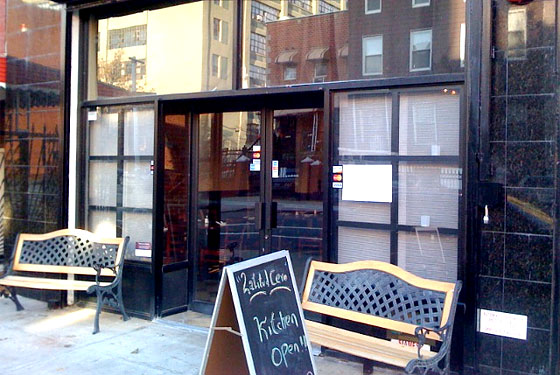 Williamsburg has a new South American restaurant in Zero Latitude. Actually, we're not sure whether it can be called a South American restaurant since it serves Spanish tortilla, a hummus dip, and palek paneer, but chef-owner Eduardo Polit (formerly chef at Frederick's Downtown and before that a sous-chef at Soho House) was born in Ecuador, and many of his dishes were inspired by a recent five-month trip around the continent. He's calling his two-day-old joint a cafe, and as you can see from the interior shot that follows, it's a stripped-down affair. But take a glance at the menu and you'll see there are culinary aspirations (risotto con pollp) For spring, Polit is working on getting fresh spondylus (a rare scalloplike mollusk prized for its colorful shell) and other delicacies from his native country, but in the meantime, here's what he has going.
Soups
Spicy black bean & cilantro (vegan) - $2.50/$5.00
Chicken & dumpling - $2.50/$5.00
Avocado & ginger vichyssoise - $3.00/$5.50
Salads & Sandwiches
Latitude Zero Crab Salad (green papaya, red onions, cilantro, aji Amarillo dressing) - $11
Artichoke Salad (artichoke hearts, baby spinach, feta cheese) - $9
Papas con Choclo (fire-roasted corn, steamed potatoes, ham mayo) - $9
Qinoa & Apple Salad (vegan) (sultana raisins, carrots, chamomile infused quinoa, apple cider dressing) - $10
Grilled Cheese & Tomato Sandwich (pan-grilled on whole wheat bread) - $7
Chicken BLT (Shredded chicken breast, crispy bacon) - $8.95
Vaca Loca Burger (8 oz. ground beef marinated with sofrito, guacamole, crispy cheese, yucca fries) - $11.95
Buffalo Zinger Wrap (buttermilk batter fried chicken tenders tossed with pomerillo sauce, lettuce wrapped in corn tortilla) - $9.50
Choripan ("Tierra de Fuego" grilled chorizo, chacarrer sauce, in toasted bun) - $8.95
Appetizers
Choclo con Queso (corn on the cob brushed with mayo sprinkle grated Parmesan) - $5.50
Crab & Sofrito "Empanadas" (gluten free) (green plantain empanadas) - $4.50
Tortilla de Patatas (classic Spanish potato omelet) - $4
Artichoke Dip (artichoke hearts, sour cream scallion, served with tortilla chips) - $6
Humus (creamy garbanzo, tahini, lime juice, served with grilled pita bread) - $6
Palitos (char-grilled chicken skewers served with chimichurri sauce, yucca fries) - $7.50
Fish tacos (beer-battered fried fish, wasabi-tomatillo relish, cilantro, encebollado) - $4.50
Crispy chicken wing (10 pc., choice of buffalo, barbecue, teriyaki, with celery, carrots, and blue cheese dressing) - $7.50
Hand-cut Fries (habanero mayo) - $4.50
Plantain whistles (green plantain chips, dusted with cumin, tomatillo salsa) - $4.50
Ceviche de camarones (classic Ecuadorian ceviche, plantain whistles) - $11.50
Ceviche de Palmito (vegan) (hearts of palm, mango, avocado, red onions) - $10.50
Grilled Merguez Sausage (Harisa sauce, panisse) - $9.50
Entrées
Lomo Asado con Yuca y Chimichurri (Traditional Argentinean cut steak with soft yucca cake and chimichurri sauce) - $13.95
Risotto con Pollo (Arborio rice, peppers, onions, tomatoes, sweet plantains) - $14.50
Salmon Miso-Honey (Ohh miso-honey glaze salmon, baby bock choy) - $12.50
Loaded Baked Potato (sour cream, scallions, cheddar cheese) - $8.50
Palak Paneer (Vegetarian or Vegan upon request) (creamy curried spinach with fried homemade paneer of tofu, basmati rice) -$11.50
Chicken with Patatas Bravas (achiote and garlic marinated half-chicken served with smoked parika, oven roasted potatoes) - $14.50
Mac & Cheese (béchamel, house cheese sauce, penko) – $7.50
Pork Chop-Chop (sweet & sour grilled pork chop, glazed and tamarind) - $14.50
Desserts
Panacotta de Yerba Luisa (lemongrass panacotta) - $8.50
Plan de Coco (cinnamon caramel, drunken raisins) - $8
Rum & Ricotta Tiramisu - $7.50
Zero Latitude, 84 S. 4th St., nr. Berry St.; Williamsburg, Brooklyn; no phone yet
Read more posts by Daniel Maurer
Filed Under: ecuadorian, Eduardo Polit, fish tacos, fredericks downtown, Openings, soho house, south american, williamsburg, zero latitude
Previously on NYmag.com's Grub Street...

Copyright FOODD - NY Mag