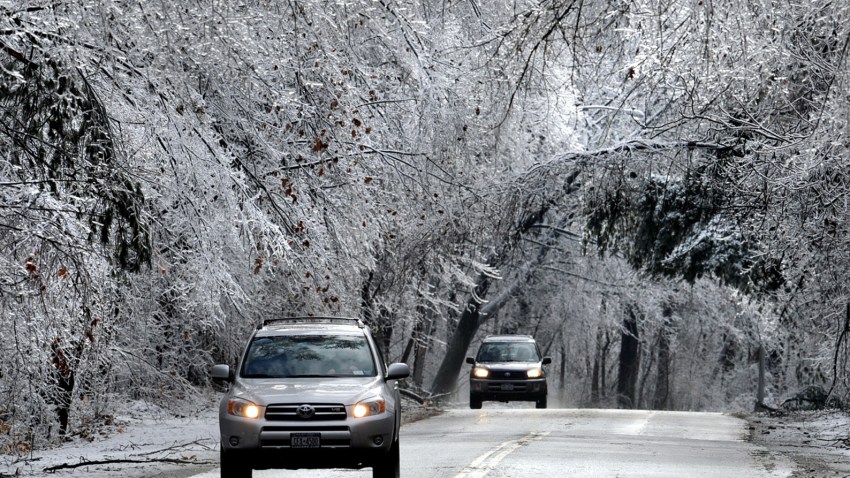 Gov. David Paterson on Saturday declared a state disaster emergency to speed assistance to 16 upstate New York counties in the wake of a debilitating ice storm.
The storm coated a region stretching from the mid Hudson Valley to the southern Adirondacks with up to a half-inch of ice, felling trees and knocking down power lines.
Utilities, scrambling to restore power, are calling in help from other states. Paterson said the emergency declaration will help bring out-of-state utility crews into New York faster and provide state help to local governments.
Emergency crews worked through the night to clear roads blocked by trees and power lines felled in an ice storm that knocked out power to a quarter of a million customers in upstate New York.

By Saturday morning, electricity was restored to at least half of them, according to utility officials. And all but five roads managed by state highway officials had been cleared.

"Things are much better," said Carol Breen of the state Department of Transportation. "But there are still trees coming down because of ice on branches; they're heavy and they can break at any point."

More than 1,200 workers helped clear most state roads of trees that blocked them, Breen said.

The storm, which began late Thursday, left about a half inch of ice across a region stretching from the mid Hudson Valley to the southern Adirondacks.

In the storm's immediate aftermath, about 250,000 customers were without power in eastern New York. State officials said it could be days before it was restored.

A number of towns in the Albany area declared states of emergency, citing hazardous road conditions. Dozens of schools throughout the region were closed Friday and Albany's airport canceled more than a dozen flights.

Copyright AP - Associated Press