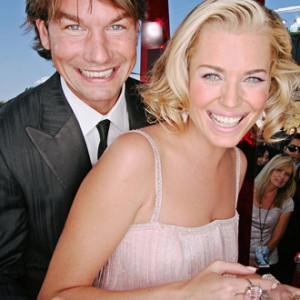 The cast of "Ugly Betty" might be used to backstabbing, gossiping and loads of TV drama, but Rebecca Romijn's co-stars had nothing but love for the expecting mother of twins.

Rebecca and Jerry O'Connell broke the good news that they're expecting twins to their "Ugly Betty" friends in private, just before the news went public, according to People. But the cast was very vocal about how excited they are for the couple.

"[We're] so excited," said "Betty" star America Ferrera at Monday's New York City premiere of her movie, "Sisterhood of the Traveling Pants 2". "I'm so happy for them. They're going to be the best parents."

[ Access Extended: 'Sisterhood Of The Traveling Pants 2' New York Premiere - Play it Now ]
"Betty" vixen Vanessa Williams is getting the Rebecca and Jerry's twins off to an environmental start.

"I've already gotten them organic cotton baby clothes from Green Babies to start them off right," Vanessa told the mag. "Rebecca is glowing, and Jerry will make a really fun daddy."

Becki Newton, who plays the often-ditzy Amanda on the ABC series, thinks the expecting parents will bring a lot of laughter to parenthood.

[ All Access: Celebrities - TV - Parenthood - Couples - Ugly Betty ]

"She was more excited than you can imagine. Jerry's a great guy. And they laugh so much, and they have so much fun together," Becki said.


Related Content from AccessHollywood.com:
Celebrity Baby Bumps - Check Out the Photos
2008 ABC TCAs: 'Ugly Betty' - Play it Now
Hollywood Moms - Check Out the Photos

Copyright NBCAH - Access Hollywood