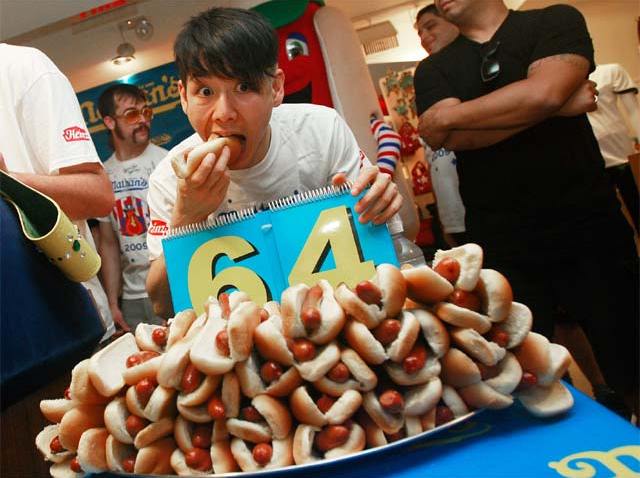 BUN FOR ALL: Last year, Joey Chestnut ate 68 hot dogs and buns in 10 minutes, nabbing first at Nathan's Famous Fourth of July International Hot Dog Eating Contest. But the biggest news is that fighting champ Takeru Kobayashi may not be competing this year. Scandal! Upset! Weiners! See you at the corner of Stillwell and Surf Avenues Sunday at 12PM.
HORNY: Louis Armstrong was born on the 4th of August, but the all-American jazzman preferred to celebrate on the 4th of July. His house-cum-museum in Corona, Queens will stage a birthday party, complete a live garden concert by Brit entertainer Gwyn Jay Allen—whose album I Love Louis flags his clear debt to Satchmo—and cake for all. Sunday, 1PM.
RED, WHITE AND BLAUE: Celebrate life, liberty and the pursuit of happiness at Tribeca's Austrian wurst haus Blaue Gans: Kurt Gutenbrunner's joint is roasting a whole pig, serving it up with things like grilled Schaller and Weber sausages, and even wheeling out a Viennese cake bar. Ja. Sunday, 2-8PM; reserve at 212-571-8880.
WARMER: We've missed you, PS1 Warm-Ups! Returning for its 12th season, the summer 2010 series of outdoors art-dance extravaganzas kicks off today, with live music and DJs from points far-flung (Spain, Sierra Leone, Sweden), and a new courtyard installation, Pole Dance, created by the architectural firm Solid – Objectives Idenburg Liu (SO – IL). Look for names like Animal Collective and ?uestlove later on in the summer, which runs every Saturday through September 4 at PS1. Saturday 2-9PM.
SECOND HELPINGS: In case you weren't quite full after gorging on foodie screenings at last week's NYC Food Film Festival, Rooftop Films teams up with Gowanus' Old American Can Factory, whose topper comes alive with screenings of Umami Festival indies on the power of food. Stay after the screenings for live folk-rock from Railbird. Saturday, 3PM.
Got a tip? Email Elizabeth.