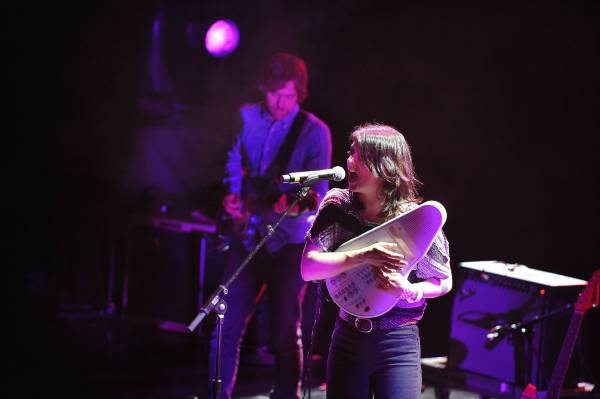 1. Organized by Aaron and Bryce Dessner of The National, the weekend long Crossing Brooklyn Ferry festival was conveniently all in-one; the bigger acts played the main opera room, some of the more avant-type like Buke And Gase or Sinkane played the upstairs lobby and a few low-key types like the two-man folk group Yellowbirds played one of the movie theaters. It made set hoping a breeze, which is rarely the case for these sort of events. As soon as St. Vincent finished her lacerating encore on Friday night, Chris Keating of Yeasayer started DJing a dance party one escalator ride away. Given the events of the day, the set was appropriately heavy on Beastie Boys songs. Hello Brooklyn!
2. St. Vincent's current backing band has two keyboard players, and it might be a good idea for her to switch one of those out for a bassist; at times the swabs of synthesized strings and orchestral whirls got so thick that she seems to be fighting harder than necessary to cut her way through. But for closing encore "Your Lips Are Ready," Annie Clark let loose with a torrent of moaning, piercing shrieks that proved yet again she has a unique knack for making her guitar go from a purr to a neck-biting roar.
3. Jherek Bischoff premiered work from his new album Composed, an orchestral song-cycle that nods to the work of classical/alt-rock world bridgers like Sufjan Stevens and The National. Bischoff called in a few favors, bringing in Amanda Palmer (visibly reading lyrics from an iPhone but never sounding less than suitably dramatic) and David Byrne, who slid soulfully across Bischoff's heady compositions with characteristic ease.
4. Though there should be some sort of law that prevents bands like The Walkmen from not playing "The Rat," otherwise known as the All-Time-Best-Walkmen-Song-Ever, the 2010 Lisbon single "Angela Surf City" brought the audience rousing catharsis well-enough, with several people in the audience punctuating the "youuuuuuu take the high road part" with repeated first pumps.
5. Aaron Dessner co-produced Sharon Van Etten' stunning new album Tramp, and joined her on guitar for a few songs. Etten still sounded grateful for his help, but the most endearing part of her set was her explaining that "this next song is about moving back in with your parents, and learning to be okay with that." Turned out that Ma and Pa Van Etten were in the audience, rightly beaming with pride. That back to the nest time clearly worked out just fine.